California Democrat facing possible discipline after sexual misconduct allegations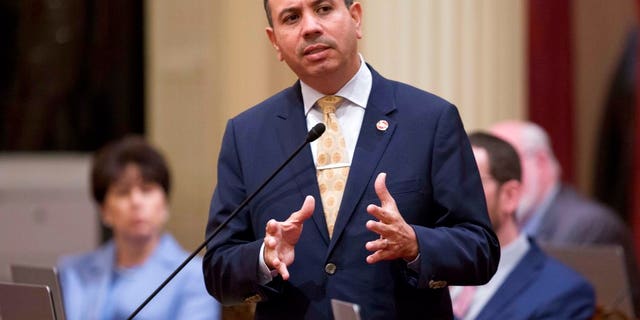 Members of the California state Senate are scheduled Wednesday to consider disciplinary action against a Democrat who "more likely than not" made inappropriate sexual advances toward six women, including four subordinates.
The allegations against Sen. Tony Mendoza were the subject of a recently concluded independent investigation.
Investigators spoke to 47 witnesses, including Mendoza, the Los Angeles Times reported.
The findings, released Tuesday, that found Mendoza "more likely than not" engaged in behavior such as offering a 19-year-old intern alcohol in a hotel suite at a Democratic Party event, suggesting a young woman in a Senate fellowship take a vacation with him and rent a room in his house, and asked several of the women about their dating lives.
Several accusations against Mendoza first became public last fall in a report by the Sacramento Bee. Under pressure from other lawmakers, Mendoza took a leave of absence. He was suspended after his leave of absence was expected to end before the independent investigation into the claims could be concluded.
Mendoza sued for reinstatement last Thursday, arguing the suspension was unconstitutional and he was being treated differently than other colleagues also under investigation.
The California Legislature is one of many statehouses nationwide grappling with a tidal wave of sexual misconduct allegations following the #MeToo movement in which millions of women shared their experiences with sexual harassment or assault on social media.
Mendoza is the only lawmaker who has been suspended since allegations of sexual misconduct at the Capitol broke last fall. Two assemblymen voluntarily resigned, and their seats haven't been filled.
Democratic Assemblywoman Cristina Garcia, who has denied accusations including groping, took a voluntary leave of absence last Friday.
Sen. Bob Hertzberg is also facing an investigation after at least three female colleagues alleged he made them uncomfortable with hugs. He has not been asked to step aside.
As early as Thursday, the chamber could vote to censure, expel, suspend or reinstate Mendoza.
Mendoza called the investigation "unfair and secret." He warned action against him by his colleagues could set a "dangerous precedent."
"Past precedent has been to only expel members who have been convicted of a felony," Mendoza said in a statement released late Tuesday. "This raises the stakes for future perceived infractions by members of this body."
Mendoza will be allowed to defend himself on the Senate floor.
The investigation found no instances of Mendoza being "physically aggressive" or "sexually crude." But the women "understood that Mendoza was suggesting sexual contact," the report said.
In two cases, the report found the Los Angeles-area senator stopped when asked by either the woman or human resources staff.
The investigation does not name any of the women, although some have previously spoken to media. Four worked for Mendoza, while a fifth is a lobbyist and a sixth was a Senate fellow in another office.
The incidents span from 2007 to 2017, covering both Mendoza's time in the Assembly and in the Senate.
The investigation outlines three other cases that weren't publicly known.
It cleared him of allegations he fired three staff members who reported his behavior toward the Senate fellow last fall. One of the former employees has filed a complaint with the state alleging retaliation.
The Associated Press contributed to this story.