California Debates Whether to Abolish Nation's Most Populous Death Row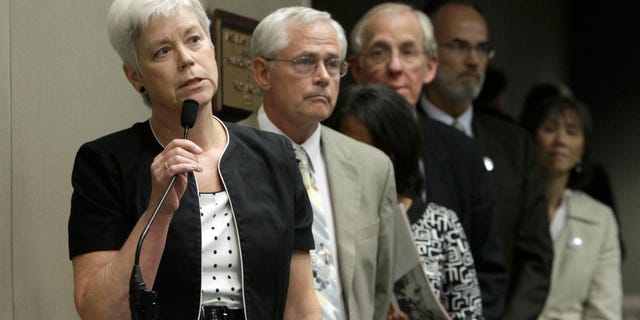 Opponents of California's death penalty are working on a bill to abolish capital punishment in the state, which if signed into law and approved by voters next year could help California save millions of dollars by taking hundreds of prisoners off Death Row.
The bill from state Democratic Sen. Loni Hancock of Berkeley would amend state law to require life in prison without parole for those convicted of what are now capital crimes, including people currently facing execution. If passed by the Legislature, the question would be put before voters on the November 2012 ballot.
The push comes as California continues to grapple with multi-billion dollar budget deficits that has led to deep spending cuts, a lower credit rating and the prospect of higher taxes.
Only 13 inmates have been executed since the death penalty was restored in the Golden State in 1978, but supporters of the death penalty say commuting the sentence of 714 condemned inmates to life in prison without parole would be a travesty of justice.
They argue that rather than abolish it, fix the capital punishment system so condemned prisoners don't spend as much time on death row and cost taxpayers as much money.
"The people that want to abolish it are the ones who would raise the cost," said Harriet Salarno, president of Crime Victims United of California, whose daughter was murdered in 1979 in a case that led to a life sentence for the man convicted. "You're telling me that life without parole is not going to be costly?"
Supporters of the bill include the author of the state's death penalty law and a former warden who presided over four executions. They are seizing on a recent study by a federal appellate judge and a university law professor that found California taxpayers spend $184 million annually to try death penalty cases, defend the state through appeals and incarcerate condemned inmates.
The state attorney general's office says that in an average year, 30 people are sentenced to death. But the study found that most of the 714 condemned inmates on the nation's most populous Death Row are more likely to die of old age than lethal injection.
"We waste a great deal of money to carry out a sentence that is rarely carried out," said Jeanne Woodford who presided over four executions as warden of San Quentin State Prison warden and now heads Death Penalty Focus, which opposes capital punishment.
The researchers -- 9th U.S. Circuit Court of Appeals Judge Arthur L. Alarcon and Loyola Law School Professor Paula M. Mitchell -- calculated that capital punishment has cost California $4 billion since it was reinstated 34 years ago, which will spend a total of $9 billion by 2030. No Death Row inmate has been executed in the past five years, they note.
"The cost of capital punishment is so enormous and so completely disproportionate to any deterrent effect, it's just a colossal waste of money," said Sacramento attorney Don Heller, a former prosecutor and author of the law. He said each execution has cost $330 million.
Cory Salzillo, legislative director for the California District Attorneys Association agrees that opponents have raised significant cost issues, but argues that if the system is reformed, California could save money by avoiding costly end-of-life medical care for older Death Row inmates.
"Let's get the death penalty back on track, take some common-sense reforms that fix the issues with the death penalty and why it takes so long rather than throw the baby out with the bath water," he said. "I think if we're going to talk about economics, you can't put a price on justice."
Salzillo added that if opponents succeed in abolishing the death penalty, they'll next target life without parole as a cruel and unusual punishment.
"We see that becoming the next thing," he said.
Woodward said she is hopeful about the bill's chances even though it will go through a long process before becoming law. The earliest it would reach Gov. Jerry Brown's desk is in the fall.After that, it faces an uphill battle. Polling shows 62 percent of California's support the death penalty.
Heller said he is not optimistic.
"My guess is it will get killed," he said. "No one wants to be running with the label opposed to capital punishment."