California community college to increase prices for in-demand classes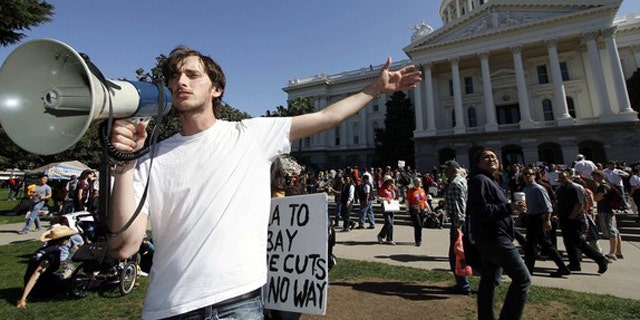 SANTA MONICA, Calif. – After three years of reducing class offerings, one of California's biggest community colleges now plans to start adding them -- but at quadruple the price.
Under a new program designed to cope with rising student demand as state funds dwindle, Santa Monica College will form a separate nonprofit foundation to offer core courses for about $600 each, or about $200 per unit.
The program, approved by the college's board of trustees last week for a summer launch, will be offered in addition to the regular courses that are currently priced at $108, or $36 per unit, but are slated to go up to $138 per course this summer under state law.
"Demand is huge across the board," said college spokesman Bruce Smith. "The question is can we continue to keep cutting and cutting classes. It's pretty devastating."
But the move is raising questions about whether it will create two tiers of students in a system designed to make education accessible to everyone and whether it's even legal under state education law.
"It's a change in what has historically been the character of community colleges in California," said Patrick Callan, president of the Higher Education Policy Institute. "It says there's one kind of education in California for those with financial resources and another for those without, but I understand the pressure they're under. There's no good answer."
Community colleges statewide have lost $809 million in state funding over the past three years, causing schools to turn away about 200,000 students and drastically cut the number of classes offered.
Several colleges have inquired about starting programs similar to Santa Monica's, but it appeared that the state Education Code prohibited them, said Paul Feist, vice chancellor of communications for the California Community College Chancellor's office.
A bill was introduced last year that would have allowed the higher-fee programs, but it did not pass.
Lawyers for Santa Monica College, however, researched the issue and concluded that it passed legal muster, Smith said.
"We feel confident that it will withstand legal challenge," he said, noting that the Santa Monica-Malibu Unified School District has a similar program -- a foundation that offers summer high school courses for a $600 fee.
One of the state's largest two-year colleges with an enrollment of 35,000 students, Santa Monica College has slashed 1,100 classes out of 7,430 since 2008. As a result, students can't get the courses they need to graduate.
Brandon Forgo, a second-year film studies major at Santa Monica who's hoping to transfer to a university next year, said he was only able to enroll in two of the four classes he needed this semester because they were all full.
He tried five different classes of the required English literature course, but had no luck. Now he's trying to enroll in an online course.
"I've been really disheartened. I've been desperately trying to get some of these classes," the 20-year-old said.
The new program could be an answer because he can afford it, but he said many students cannot. "It's an incredibly large increase in price," Forgo said. "It's hard to find a solution."
Smith said the college will offer financial aid and scholarships to needy students and has just received a $250,000 donation for that purpose.
The courses to be offered will be open to everyone and will most likely be the courses most in demand, such as the required English and math classes. Tuition from the courses will pay for faculty and expenses.
"It's still far better than students turning to for-profit institutions and amassing huge debt," Smith said. "We feel this is something that should be tried."