Businesses warn of price hikes, staff cuts as minimum wage increases kick in
More than a dozen cities and counties across the country rang in the summer season by raising their minimum wage – but businesses warn that the bid to boost worker pay could backfire on employees just like it has in Seattle.
In cities stretching from California to Illinois to Oregon, minimum wages increased up to $15.20 on July 1, the start of their fiscal year.
But following in Seattle's footsteps in the 'fight for $15' could come with complications.
Los Angeles and seven other California cities began climbing toward the $15-an-hour goal with the latest batch of wage hikes. Los Angeles upped its minimum from $10.50 to $12, aiming to hit $15 by 2020.
But Los Angeles Chamber of Commerce President Gary L. Toebben said the move leaves business owners with limited options.
"We know employers have three options: raise prices, reduce number of employees or cut employee hours," Toebben told Fox News in an email.
SEATTLE WAGE HURTING SOME WORKERS, STUDY SHOWS
In Pasadena, Calif., the hourly minimum also went from $10.50 to $12. Local Chamber of Commerce President Paul Little said he was already hearing about businesses cutting staff in the run-up to the increase.
"We've been hearing from restaurant and retail members that they can't sustain. Folks at the low end are letting people go," Little said.
In San Francisco, manager of the Pier Market seafood restaurant Steve Barnes said he'll have to "paddle out more money or rearrange our staffing" to keep pace.
"Like any other business, we're going to try to use less hours if we can," he said.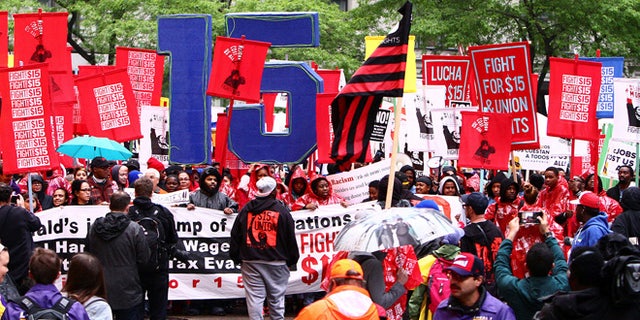 San Francisco increased its minimum wage from $13 to $14 on July 1.
Some cities and counties are enacting a more significant increase than others. Emeryville Calif., brought the hourly wage to $15.20, which represented just a 38 cent bump, while Cook County, Ill., raised pay to $10 with a $1.75 surge.
"Clearly we believe that it's going to shut down job opportunities," President of the Illinois Chamber of Commerce Todd Maisch told Fox News.
But advocates for the minimum wage hikes believe they will have the opposite effect. In Portland, Ore., where the wage increased to $11.25, Paul Mallory, co-owner of Higgins Restaurant and Bar, has prepared for the rise and thinks it will stimulate the economy.
"Based on our payroll here we've been able to figure out the impact and make changes in both spending and pricing," Mallory told Fox News. "In terms of people coming in, they haven't been deterred by any pricing. A pint of beer went up 25 cents, but when people see that, they get it… That's the way it is. Society has spoken."
Two conflicting studies have been conducted on the impact of Seattle's wage increase since it went into effect in 2015, bumping the wage to $13 last year en route to $15. One emphasized the city's flourishing economy and the other focused on the hike's detrimental effects.
University of California, Berkeley reported that the increase had upped salaries with "no significant disemployment effect." But a countering report from a group of economists at the University of Washington said low-wage workers in the city lost $125 a month in income and clocked 9 percent fewer hours.
According to the Economic Policy Institute minimum wage tracker, the following states and cities saw an increase July 1: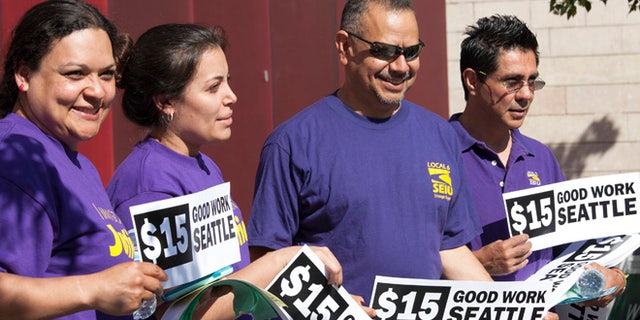 California: Eight cities increased above the state minimum of $10.50.
Washington, D.C.: Increased by a dollar to $12.50.
Oregon: Increased to $10.25 statewide. Portland raised the wage to $11.25.
Illinois: Chicago increased to $11. Cook County increased to $10.
Maryland: Increased to $9.25 statewide, with the exception of Montgomery County at $11.50.
Arizona: Flagstaff increased to $10.50.