Businesses in Seattle could pay millions to help city deal with homeless problem
Seattle's tech industry is booming. Amazon has hired more than 35,000 employees in the city since 2010. Google is building a campus that will be able to expand its workforce by 4,000 workers. Facebook is also growing its Seattle footprint. Downtown Seattle has led the world in the number of construction cranes for several years running thanks largely to the influx of high-paying tech jobs.
But now Seattle is poised to lower the boom on its largest and most successful job creators. The city council is widely expected to pass a head tax of 26 cents on every hour worked in the city. It will hit companies that have gross revenues topping $20 million a year.
The tax revenue would be used to address the city's growing homeless problem.
When business owner Saul Spady, who founded Cre8ive Empowerment, compared this to a sin tax on jobs, he was dismissed by a city council member.
"The city is going to make us choose between taking care of our employees and giving back to our community," said Spady, "and some businesses will die or leave Seattle because of this."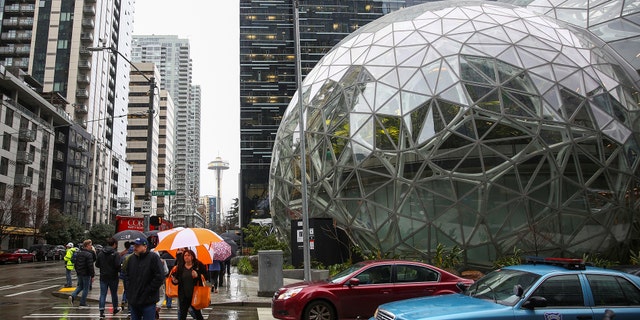 The tax will raise $75 million from 600 companies. Among the businesses impacted will be HomeStreet Bank, which employs 700 workers in Seattle. But the company also owns land just across the city line.
"You start creating a scenario where it's much more attractive to house employees outside the city," said HomeStreet CEO Mark Mason. "That is bad for the city, it's bad for jobs, it's bad for the economy."
The money will fund homeless shelters, build tiny house villages and affordable apartments. Despite spending in Seattle and King County that has ballooned to $200 million a year, the number of people living in tents, on Seattle streets and in vehicles has grown 20 percent since 2016, to nearly 4,000 individuals.
"Housing and homelessness is absolutely a regional crises and we need to act with urgency right here in Seattle to get folks inside," said Seattle City Council member Teresa Mosqueda. "This creates almost 2,000 deeply affordable homes."
By far, the biggest impact will be felt by Amazon. With a $540 tax on each of its 40,000 Seattle employees, the online retailer will pay $21.6 million by way of the head tax. Amazon is already trying to be part of the solution to homelessness. It's spending $10 million to build a homeless shelter inside one of its many new office towers downtown.
At the same time, the company is deciding where to locate a second headquarters.
"What Amazon is doing is keeping their options open," said Paul Guppy an analyst with the Washington Policy Center. "They're saying they're going to set up a headquarters in another city, then they can transfer work from Seattle to other places as needed and it's just a basic business decision."
Business leaders accuse the city council of being hostile toward private businesses, especially the largest corporations. In 2013 socialist City Council Member Kshama Sawant criticized Boeing for moving jobs to South Carolina and shockingly called for a government takeover.
"If you want to go, you can go," Sawant said, "The machines are here, the workers are here. Let us take this entire productive activity into democratic public ownership."
John Scholes, director of the Downtown Seattle Association, said businesses already pay nearly 60 percent of Seattle's general fund tax revenue.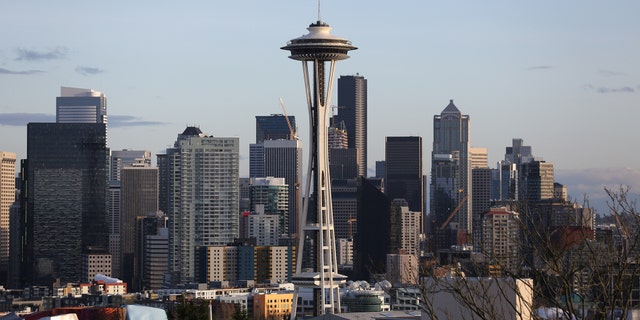 "The current strategy is not working," Scholes said, "We're seeing more spending from the city council on this (homelessness) issue, and there are more people outside. We're going in the wrong direction."
But advocates for the homeless say businesses that just received a big windfall from the Trump tax cuts can afford to pay more in Seattle.
"All corporations have a civic duty to make sure that Seattle is a good place to live and work," said Sharon Lee, executive director of the Low Income Housing Institute, which contracts with Seattle to build affordable housing.
Head taxes are extremely rare in the U.S. and the ones in place are a fraction of Seattle's proposal. Denver's head tax amounts to $50 per year for a full-time employee. Chicago used to have a head tax until Mayor Rahm Emanuel scrapped it, calling it a jobs killer. And, in fact, Seattle also got rid of its $25 a year per head tax in 2009 because leaders said it sent the wrong message to businesses during the recession.
Seattle's Head Tax 2.0 is 22 times larger than that one. The council is expected to pass it later in May.
A previous version of this article incorrectly quoted the estimated number of affordable homes that would be created. Fox News regrets this error.