Bunning Blisters 'Moral Hazard' Bernanke at Confirmation Hearing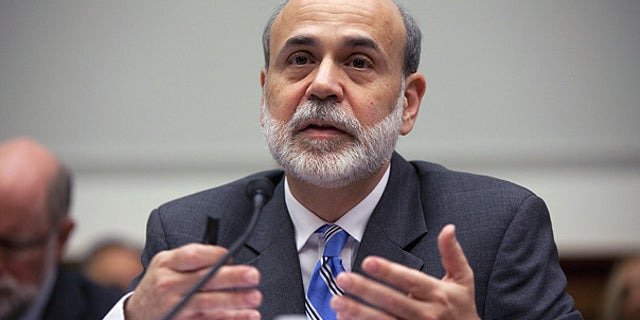 NEWYou can now listen to Fox News articles!
WASHINGTON - Ben Bernanke, seeking Senate approval for a second term as head of the Federal Reserve, faced withering criticism Thursday from a Republican senator who called him a "moral hazard" and said he should be sent back to Princeton University.
At a Senate Banking Committee hearing, Kentucky Sen. Jim Bunning, who is not seeking re-election next year, made it clear that he would join a growing group of lawmakers looking to stop Bernanke's nomination dead in its tracks.
"I will do everything I can to stop your nomination and drag out the process as long as possible," said Bunning, who opposed Bernanke's confirmation four years ago. "We must put an end to your and the Fed's failures, and there is no better time than now."
"The AIG bailout alone is reason enough to send you back to Princeton," Bunning said, referring to Bernanke's 17 years of teaching economics at the Ivy League university.
While widely credited with helping keep the Great Recession from becoming a second Great Depression, Bernanke has faced intense anger from Congress and the public for bailing out Wall Street while ordinary Americans struggle under the crush of high unemployment, stagnant incomes and rising foreclosures.
Sen. Bernie Sanders, an independent from Vermont, said he's so upset about the bailouts he plans to try to block Bernanke's nomination by putting a "hold" on it when it reaches the Senate floor. Essentially that means the Senate would need 60 votes to approve the nomination, rather than a simple majority. That could slow the approval process but is unlikely to derail it.
Sen. Jim DeMint, R-S.C., also pledged to hold Bernanke's nomination.
"Americans want a new Fed chairman who is willing to provide transparency into the Fed's actions, who is willing to accept responsibility for the Fed's mistakes, and who is willing to support true monetary reform that guarantees the soundness of our money," he said in a written statement.
Bernanke defended himself Thursday, saying that he has the tools and the political backbone necessary to reel in massive economic support once the recovery is firmly rooted.
"It would be a tragedy if, after all the hardships that Americans have endured during the past two years, our nation failed to take the steps necessary to prevent a recurrence of a crisis of the magnitude we have recently confronted," Bernanke told the panel.
He vowed to work with Congress to overhaul the nation's financial regulatory structure and to bring about stronger and more effective supervision if he wins a second four-year term.
Sen. Christopher Dodd, D-Conn., chairman of the panel, predicted Bernanke would win confirmation. "Under your leadership, the Fed has taken extraordinary actions to right the economy," said Dodd. "These efforts played, in my view, a very significant role in arresting the financial crisis."
Nonetheless, Dodd wants to strip the Fed of some of its powers, including overseeing banks, because regulators failed to crack down on dubious mortgages and other problems that figured prominently in the financial crisis.
Dodd and others drew a distinction between Bernanke's economic leadership and the operations of the Fed as an institution itself.
Efforts already have begun at the Fed to tighten oversight of banks and other financial firms. And the central bank is actively engaged in identifying and implementing improvements, he said.
"A financial crisis of the severity we have experienced must prompt financial institutions and regulators alike to undertake unsparing self-assessment of their past performance," Bernanke said.
The Fed chief has taken heat for failing to detect early signs of the housing collapse. Lax regulatory oversight by the Fed and others was blamed for contributing to the crisis.
"The Fed has done a horrible job as a regulator," said the committee's top Republican, Sen. Richard Shelby of Alabama.
"We didn't do a perfect job by any means," Bernanke acknowledged. But he added: "We didn't do the worst job" either.
At the same time, Bernanke argued that the Fed must remain "effective and independent" to make decisions that may be good for the economy but unpopular with politicians or the public. That was directed at a provision -- passed by a House committee on Wednesday -- that would subject the notoriously secretive Fed to congressional audits. Bernanke fears that could interfere with crucial decisions about interest rates.
Fox News' Trish Turner and The Associated Press contributed to this report.