Budget Veteran Warns Deficit Committee Members They Might 'Fail the Country'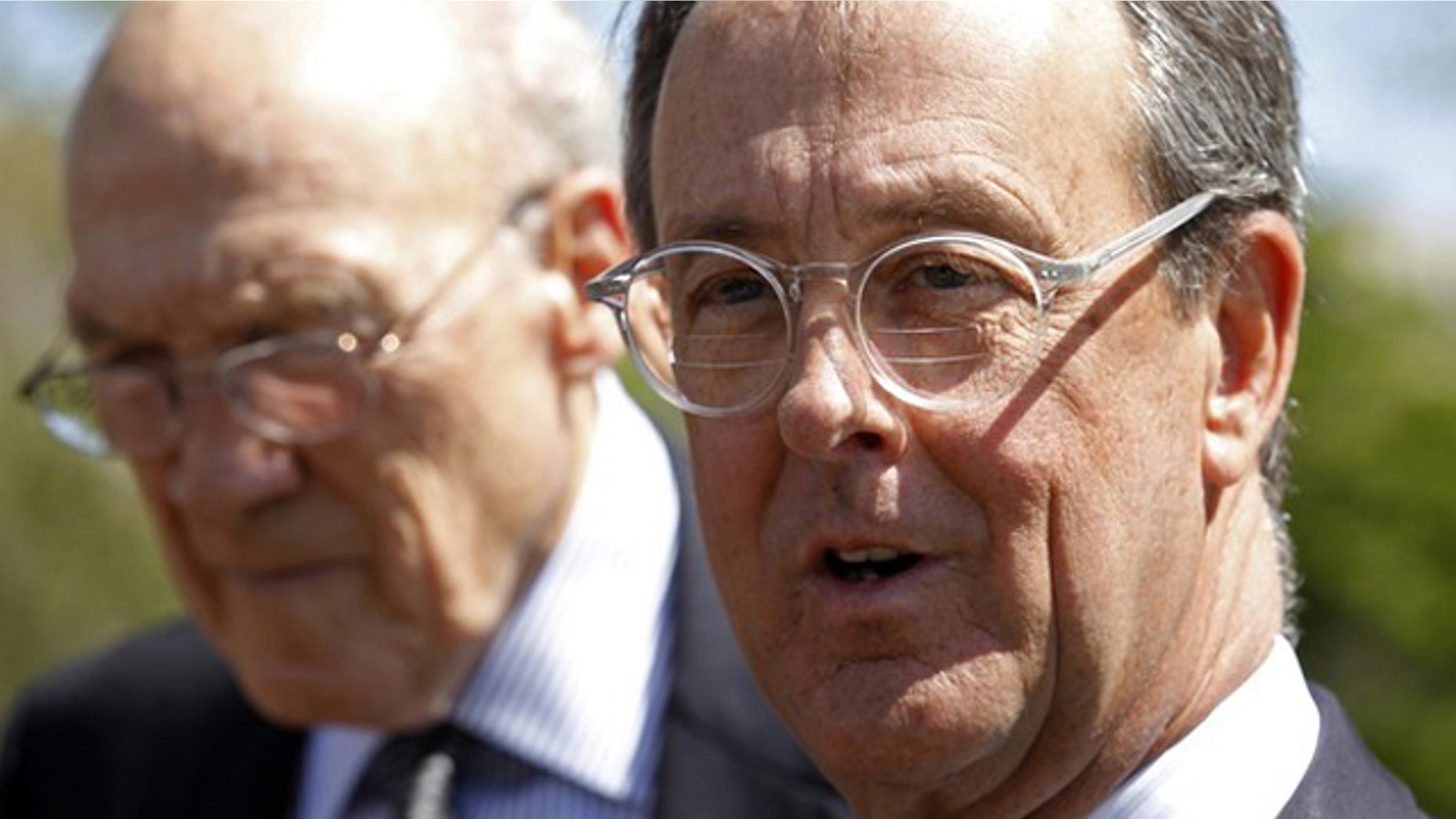 One of the leaders of President Obama's now-defunct deficit panel warned Tuesday the latest committee tasked with solving the nation's debt crisis that he's concerned the members are going to "fail the country."
The startling comment from Erskine Bowles came as the so-called deficit-cutting "Super Committee" held a final hearing, before hunkering down to try to strike a deal in the next few weeks to cut the long-term deficit by at least $1.2 trillion. Budget-cutting experts who testified Tuesday have in the past called for cutting far more than that. But the six Republicans and six Democrats on the committee seemingly have struggled to find enough common ground to reach even the $1.2 trillion target.
Bowles, a former White House chief of staff for Bill Clinton, offered a dim outlook.
"Collectively, I'm worried you're going to fail -- fail the country," Bowles said, while saying he respects the members of the committee individually.
Bowles, along with former Sen. Alan Simpson, co-chaired a deficit-cutting committee formed by Obama, but that committee's plan never earned a vote in Congress. Bowles said the $4 trillion deficit-cutting goal staked out by that committee is still the "minimum amount we need to reduce the deficit in order to stabilize the debt."
Bowles and other witnesses at the hearing Tuesday called on the Super Committee members to set aside their differences and come together on a deficit plan "for the country's sake."
While some Democrats are averse to major changes in entitlement spending, Republicans are largely opposed to tax increases. Budget experts said Tuesday that both will be needed to achieve responsible deficit reduction.
Former Sen. Pete Domenici said those who oppose entitlement reform and those who oppose revenue increases are "equally complicit in bringing the nation closer to the fiscal brink."
Amid disagreements on the panel over how to proceed, a smaller group of six members has broken out to work separately on a deficit-cutting plan that might be able to earn the seven votes needed to clear the panel and move to a vote in Congress. Congress must approve a plan by shortly before Christmas, or else a "trigger" mechanism would enact sweeping cuts to the military and entitlements that neither party wants. The committee is supposed to recommend its plan by Thanksgiving. Bowles cautioned Tuesday that any attempt to circumvent the "trigger" in the absence of a plan would be "disastrous" because it would signal to the markets and rating agencies that the country is not serious about fixing its fiscal problems.
One congressional aide cautioned that the sub-group is "not surprising at all," as other smaller groups have met to work out certain aspects of a plan.
Others have raised concern that the committee could tackle Social Security. House Speaker John Boehner this week called for fixing the "structural problems" with Medicare, Medicaid and Social Security. Though Social Security is not a big deficit-driver in the near-term the way Medicare and Medicaid are, the Committee for a Responsible Federal Budget also called for the Super Committee to deal with Social Security since it is a "long-term" deficit driver.
But Rep. Dennis Kucinich, D-Ohio, on Monday said Social Security should be taken "off the table."
"We cannot allow our budgetary situation to be used as an excuse to rob seniors of their well-deserved benefits. Social Security does not impact the deficit," he said in a statement.
The divide over how to proceed was on display Tuesday, as Democratic and Republican members reiterated their conditions for a deal.
Rep. Jeb Hensarling, R-Texas, co-chairman of the panel along with Sen. Patty Murray, D-Wash., seemed to stress that entitlement changes be prioritized over any tax increases.
"Certainly we cannot tax our way out of this crisis. We cannot solve it by simply tinkering around the edges of our entitlement programs," he said.
But Murray said that as lawmakers enter the "home stretch," Republicans need to offer concessions and help make sure the final product does not fall just on the middle class.
"A bipartisan deal isn't possible if members refuse to come out of their partisan or ideological corners," she said, calling on everyone to put "real skin in the game."
Simpson, who is known for his colorful descriptions of the country's fiscal woes, echoed the concerns of his former colleague Bowles in his testimony Tuesday, and called on the lawmakers of the panel to step up to the challenge.
"If you spend a buck and borrow 42 cents of it, you've got to be stupid," Simpson said. "You all know what you have to do in your gut."