Budget Impasse Could Leave FEMA Projects in the Lurch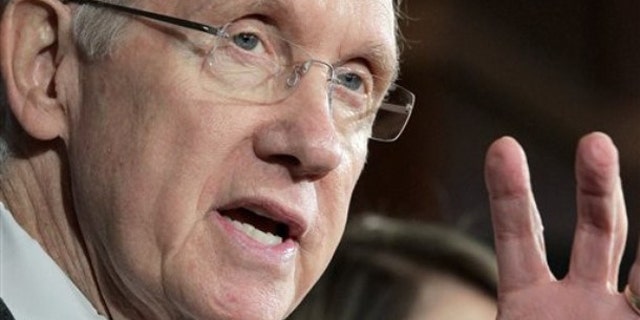 The budget impasse threatening a government shutdown in Washington could make a bad situation worse for FEMA and the disaster-stricken towns that depend on its funding.
Millions of dollars worth of disaster-relief projects already are on hold as the Federal Emergency Management Agency's funding sinks to dangerously low levels. Facing the cash shortage, the federal agency has had to prioritize projects in the wake of this year's devastating tornadoes, hurricanes and other disasters.
As of Monday, that disaster relief fund has just $114 million left. According to a Senate aide, that's enough to last through Thursday, longer than officials had previously estimated. But FEMA is nevertheless facing a severe cash shortage in the coming days unless Congress intervenes.
An aide to Sen. Mary Landrieu, D-La., said that shortage has very real implications. The aide said the remaining operational projects could grind to a halt without more funding.
"Everything stops," the aide told FoxNews.com. "They're down to the bare bone. ... They've halted everything else so they can respond to immediate pressing needs."
FEMA spokeswoman Rachel Racusen said that if the balance of the disaster relief fund hits zero, laws governing agency operations in the absence of funding will kick in.
"Under law, FEMA would be forced to temporarily shut down disaster recovery and assistance operations, including financial assistance to individuals until Congress appropriated more funds. This would include all past and current FEMA recovery operations," she told Fox News.
The FEMA funding hangs in the balance as Congress remains divided over a stopgap budget bill. The impasse could result in a government shutdown if not resolved by Sept. 30, the end of the fiscal year. Congress is trying to pass a bill that will fund operations through Nov. 18, but it is divided over the portion of the bill dealing with disaster aid and how to fund it.
Senate Democrats on Friday defeated a House GOP-backed bill that contained $3.7 billion for disaster aid, $200 million of which was offset by cuts to green energy programs -- including a loan account that once helped fund the now-defunct solar-panel firm Solyndra.
Senate Democratic Leader Harry Reid has instead offered his own version of the bill that strips the offsets.
A procedural vote is set for Monday night in the Senate, but the chamber's Republican leader, Sen. Mitch McConnell, predicted earlier that the bill would fail.
Ahead of the vote, Reid appealed to his colleagues to support the latest proposal, warning that reconstruction projects would be delayed and people would be "forced to go without food and shelter" without more FEMA funding.
"There's no more time to waste," Reid said.
Reid needs 60 votes Monday to move the bill forward. If he can't get there, he may be compelled to put the House-passed bill on the floor and forge ahead. Landrieu, speaking on the floor, indicated the Senate might be willing to grudgingly accept the House bill.
But Reid said Congress will have to revisit the issue in a few weeks anyway "when FEMA funds will be depleted again."
Amid the bickering, one senior congressional source told Fox News that FEMA might be able to recoup up to $90 million by "shaking the couch cushions." Estimates about whether and when the fund will reach zero are fluctuating and will likely continue to do so depending on potential new disasters and people registering for aid.
The Landrieu aide said about $447 million worth of FEMA-backed projects already are on hold because of funding problems. A list of those projects obtained by FoxNews.com shows hundreds of projects across the country, ranging from road repairs in Missouri to work on flood gates and pump stations in Louisiana.
The latest budget impasse, which follows a near-shutdown earlier this year as well as a default-risking showdown over the debt ceiling, has been cited by each political party as a sign of the other's failing.
House Democratic Leader Nancy Pelosi said last week that "this is really not the time to say we're going to balance the budget on the backs of those hit by natural disasters."
Rep. Louie Gohmert, R-Texas, though, said it's "absurd for (Democrats) to be dragging their feet."
"They are anxious for a shutdown," he alleged on Fox News. Gohmert said members of Congress, by looking to offset new spending, are just looking to keep a "promise" to be fiscally responsible.
FoxNews.com's Judson Berger and Fox News' Mike Emanuel, Chad Pergram and Trish Turner contributed to this report.