Bucking His Party Again, TX Sen. Ted Cruz Vows Another Fight Over Debt Ceiling Bill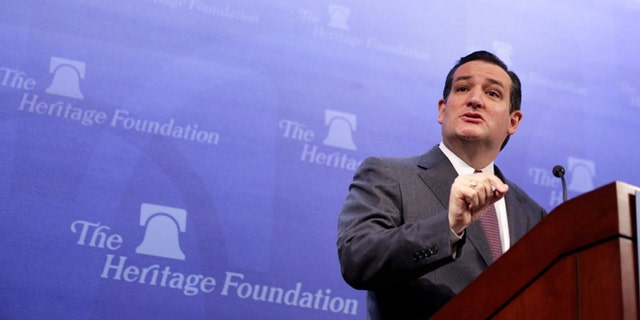 Senator Ted Cruz is threatening another filibuster.
The Texas Republican is bucking his party, insisting that a vote to raise the nation's debt ceiling —which GOP leadership had agreed to debate as a "clean" bill, meaning that they wouldn't attempt to attach spending cuts to it— be held to a 60-vote threshold.
In doing so, he would open the bill, scheduled to be discussed on Wednesday, to the possibility of a filibuster. On a Tuesday conference call with Texas reporters, Cruz said of the debt ceiling issue, "If you get outside Washington, D.C., it's a no-brainer."
The Senator's office released a statement expressing his reasons. "Republicans, Democrats, Independents, and Libertarians all agree that living within your means is basic common sense," it read. "And yet Washington is not listening to the American people."
Cruz's statement went on to note that, "Historically, the debt ceiling has proven the most effective leverage for reining in spending; 28 times, Congress has attached meaningful conditions to debt ceiling increases."
Bills in the Senate generally require a "cloture" vote, with 60 senators agreeing to bring the matter to a yes-no vote. Some budgetary bills, including ones on raising the debt ceiling, have traditionally come under the "reconciliation" rules that limit debate time on the Senate floor to 20 hours.
Cruz has a history of threatening, and carrying out, filibusters. In September of last year, he took control of the Senate floor and spoke (with occasional remarks by other Republicans) for 21 hours straight in an attempt to prevent a spending bill that funded Obamacare from coming to a vote.
During his time speaking, he kept himself and his audience entertained with some rather unusual steps, such as reading Dr. Seuss' "Green Eggs and Ham" out loud.
Cruz's statement about today's debt ceiling discussion concluded, "I intend to object to any effort to raise the debt ceiling on a 50-vote threshold. I will insist instead on a 60-vote threshold, and if Republicans stand together we can demand meaningful spending restraint to help pull our nation back from the fiscal and economic cliff."
Earlier in the week, Cruz announced that he will speak on March 18 in front of the Network of Iowa Christian Home Educators. It will be his fourth trip in eight months to one of the first states contested in the presidential election cycle, fueling speculation that the senator will run for the White House in 2016.
Follow us on twitter.com/foxnewslatino
Like us at facebook.com/foxnewslatino