Bucking A Trend: After Years Of Steady Increase, Immigrant Deportations Are Now Down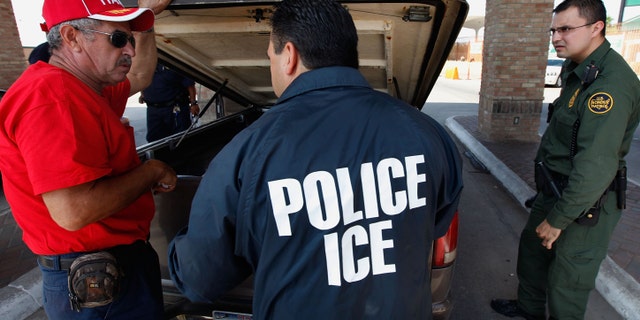 The federal government, under fire from groups that prefer more lenient immigration policies for its record number of deportations, has deported in the last year the lowest number of people during President Obama's tenure, according to Bloomberg News.
It's actually the lowest volume of annual deportees going back six years, according to the news report.
Slightly more than 343,000 people were deported between Oct. 1, 2012 and Sept. 7, 2013, the government's fiscal year, according to the most recent data by Immigration and Customs Enforcement, or ICE, Bloomberg reported.
ICE officials were quoted by Bloomberg as saying that the drop merely reflects the administration's decision to focus its enforcement – including deportation – on people who pose a public safety danger or national security threat, instead of people who are guilty of civil violations.
"ICE has been vocal about the shift in our immigration-enforcement strategy," said ICE spokeswoman Barbara Gonzalez. "Our removal numbers illustrate this."
The total of deportations during Obama's tenure was close to reaching 2 million, more than that of any other president. Fiscal 2012 topped a record 409,900 immigrants sent home.
At a White House briefing this week, Obama Press Secretary Jay Carney said the drop in deportations did not mean officials were ignoring the law.
"We have to enforce the law," he said. "There is prosecutorial discretion, and that is applied. The focus is on those who've committed felonies."
Many activists who favor more lenient immigration policies have criticized the stepped up deportations – many of them of people whose only violation was administrative, that is, being in the country illegally – saying they contradict Obama's rhetoric about wanting to overhaul the immigration system to give undocumented immigrants who contribute to U.S. society a chance to legalize their status.
This year, as efforts to pass comprehensive immigration reform have stalled in Congress, these organizations and supportive Democrats such as House Minority Leader Nancy Pelosi and Rep. Luis Gutierrez of Illinois have turned up the pressure on Obama to ease up on deportations.
Pelosi, in an interview over the weekend with Spanish-language TV network Telemundo, said that people who do not meet the criterion of high-priority deportation targets were being deported in high numbers.
"If somebody is here without sufficient documentation, that is not reason for deportation," Pelosi said. "If somebody has broken the law, committed a felony or something, that's a different story. And when those people are apprehended, they are deported. So I don't see any reason for these deportations."
Pelosi also indicated that she has been raising concerns for years.
"For years we have been after the administration not to have this disparity of discretion that is used. It's wrong," she said.
Some experts said earlier in Obama's tenure that the president seemed to be getting tougher on enforcement in the hope of getting his Republican critics in Congress to, in turn, cooperate with Democrats and the administration in supporting measures that would offer a reprieve to some undocumented immigrants.
But bipartisan bickering has impeded efforts in Congress to move forward on legislation that would address various aspects of the complicated, emotionally-charged subject of immigration.
Republicans in the House, where they have the majority, have resisted bills that would extend a path to legal status to undocumented immigrants.
The Senate passed a bipartisan immigration reform measure in June that, among other things, tightens security along the border, steps up interior enforcement, expands foreign worker visas and provides opportunities for undocumented immigrants who meet a strict set of criteria to legalize their status.
The immigration reform effort, however, has stalled in the House amid a refusal by many Republicans to support a path to legal status and expanding foreign worker visa programs.
Follow us on twitter.com/foxnewslatino
Like us at facebook.com/foxnewslatino