Brown, Whitman on Collision Course to Battle for California's Top Office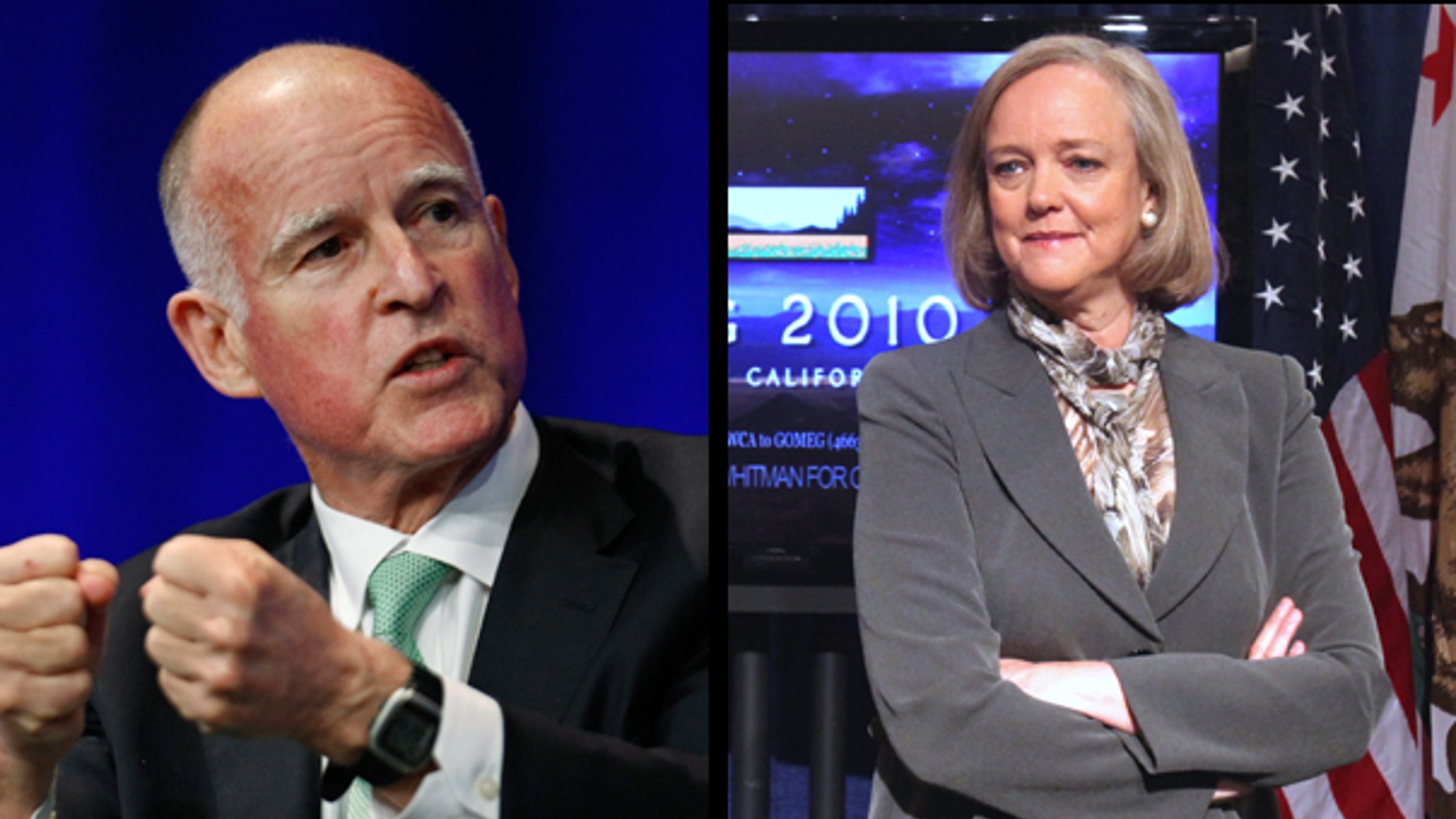 Crippled by the recession, Californians who are worried about a number of issues -- from higher taxes to the environment -- are turning their attention to the likely gubernatorial race between state Attorney General Jerry Brown and former eBay Chief Executive Meg Whitman.
The matchup would pit Republican Whitman's vast sums of money against Democrat Brown's seemingly unbeatable name recognition in November's election.
Brown served as California governor once before following Ronald Reagan's two terms in office. He also served as California's secretary of state and was at one point the mayor of Oakland.
But his roughly $14 million cash on hand pales in comparison to Whitman's personal billion-dollar fortune. Yet thanks to the Supreme Court ruling uncapping corporate soft money, deep-pocketed allies could help Brown even the playing field.
On Saturday, Brown challenged his potential GOP rivals to an unprecedented bipartisan debate before the state's June primary.
He told cheering delegates at the state party convention that the campaign is not about the millions of dollars in television adds his rivals are purchasing. His challenge to Republicans Meg Whitman and Steve Poizner was a stirring response to criticism that he has been slow to enter the political fray.
With the state mired in recession and perpetual budget deficits, Brown said all three leading candidates owe it to voters to stake out their positions and debate in public. He says California faces an "extraordinary crisis."
Poizner, the state's insurance commissioner, was quick to accept, saying he was "willing to debate anywhere, anytime."
Whitman's campaign issued a statement saying it was "open to considering the proposal."
Brown doesn't face serious opposition in the June primary. Moveon.org co-founder Peter Schurman campaign attacks on Brown's progressive credentials have gotten little traction so far. But Brown has been subject to constant attacks by the Republicans vying to challenge him in November.
For all his notoriety, Brown could use a shot in the arm.
From the day of his online launch, his campaign has been extremely low-key. A recent poll shows Whitman with 44 percent of the vote over Brown's 41 percent.
While she isn't a staple in California politics, Whitman has spent almost $40 million of her own money on her campaign and it appears to be working.
"In a vacuum with a lot of money against not a lot of opposition, you can  -- and she has -- created an impact," said Hal Dash, President of Cerrell Associates, a public relations firm that works on political campaigns.
"She needs to establish name ID and a physical presence," he added. "Basically, when you spend $40 to $50 million and hire every consultant in the world, spending money on television, radio and the Internet, you can create some movement and she has."
Fox News' Casey Stegall and The Associated Press contributed to this report.