Brown Plays Role as People's Senator as Wild-Eyed Republicans Bask in Glow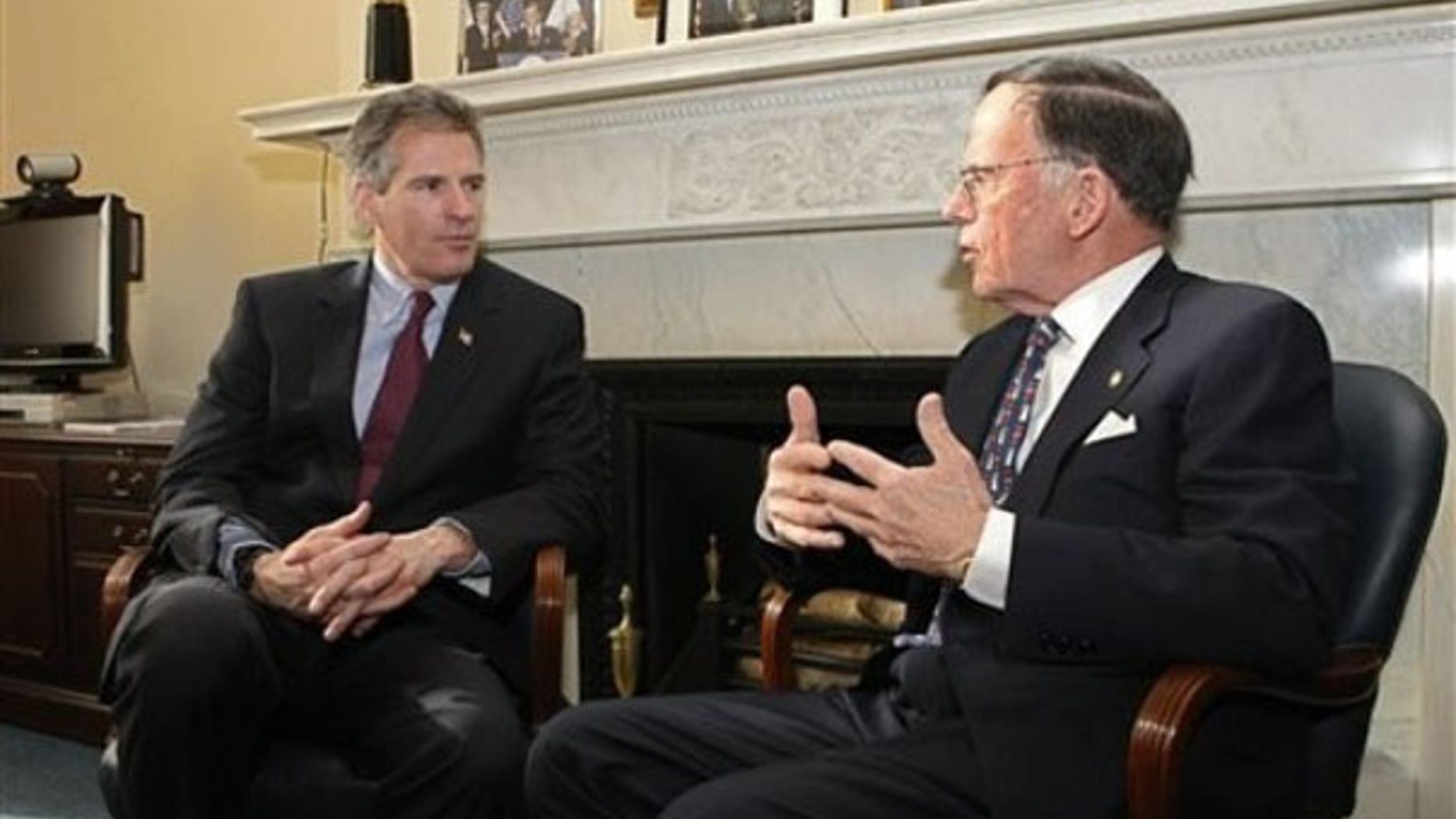 WASHINGTON -- Sen.-elect Scott Brown kept to a tight schedule Thursday, meeting on Capitol Hill with five members of the bipartisan Senate leadership, and kept to an even tighter script: Mr. Brown is here to cast a vote for the state of Massachusetts.
Brown appeared remarkably calm and poised for a man swarmed by the kind of media presence -- something resembling a frenzy -- that was reminiscent of the 2008 presidential candidates when they would pop up from time to time.
Still cameras, TV cameras, print press, radio journalists, television correspondents and producers, all pushing and shoving to get near him to ask a question, hanged on to his every word.
The scrum was met with all smiles from Senate Republican leader Mitch McConnell, R-Ky., who sat next to a glowing Brown after a 30-minute meeting.
"I'll always refer to him as 41," McConnell said with a grin, referring to the number of seats Republicans now hold in the Senate, enough to mount a successful filibuster if they all stick together.
Brown has stayed away from any suggestion of partisanship, a remarkable juxtaposition for the man who could very well blow a hole in President Obama's agenda.
Republican Sen. Susan Collins of Maine was thrilled to see "a fellow New Englander," saying, "Oh, look, I'm going to be the first to greet him" as Brown was escorted by McConnell into a private lunch with Republicans.
After he strolled out, Brown called the lunch "fun."
"I enjoyed meeting everyone, even you," he said to the press members. "The spaghetti was good. I could have had more helpings. I was famished."
Brown said he feels "very comfortable" and was "basically on the campaign trail" since so much of what he discussed for months campaigning is what the Senate is trying to tackle: health care, deficits, jobs.
Brown has no small ambitions for his role on Capitol Hill. He said he wants to serve on the Senate Armed Services, Homeland Security and Governmental Affairs, "and probably Appropriations" committees.
Those are among the most prestigious positions, and while Brown may be unlikely to get a seat on the highly-coveted appropriations panel, if voter anger is a factor, he could pull it off.
As a retired lieutenant colonel, he could get an assignment on the Armed Services committee, a probability improved by his meeting first with his newest good friend, Arizona Sen. John McCain, the top Republican on that panel.
On top of that, Collins is the highest ranking Republican on the Homeland Security Committee
Senior GOP aides say it likely will take a week to figure out Brown's committee assignments, as a number of senators will now want to shuffle around and the new guy draws the last straw.
Brown's take on many of the issues don't position him exactly on the right side of his party. He considers Roe v. Wade abortion ruling the law of the land, said senior advisor Eric Fehrnstrom, but he's opposed to partial birth abortion.
"Federal funding should not be used to fund abortions," Fehrnstrom said, sizing up his position, which is in line with abortion opponents angry over the health care legislation.
Brown also supports the Defense of Marriage Act, which describes marriage as a union between a man and a woman, but he does not support a constitutional amendment banning gay marriage because marriage is a states' rights issue, Ferhrnstrom said.
As for staffing his new office and a budget to support that task, Senate aides say that is usually determined based on the size of the state.
"Given the population of Massachusetts, I'd assume it'd be in excess of $3 million," one senior Senate GOP leadership aide said.
"Size of the staff varies, but most Senate personal and state offices have a total of approximately 60 staffers (not including leadership or committee offices)," the aide wrote.