Brown Campaign Could Provide Blueprint for Future GOP Success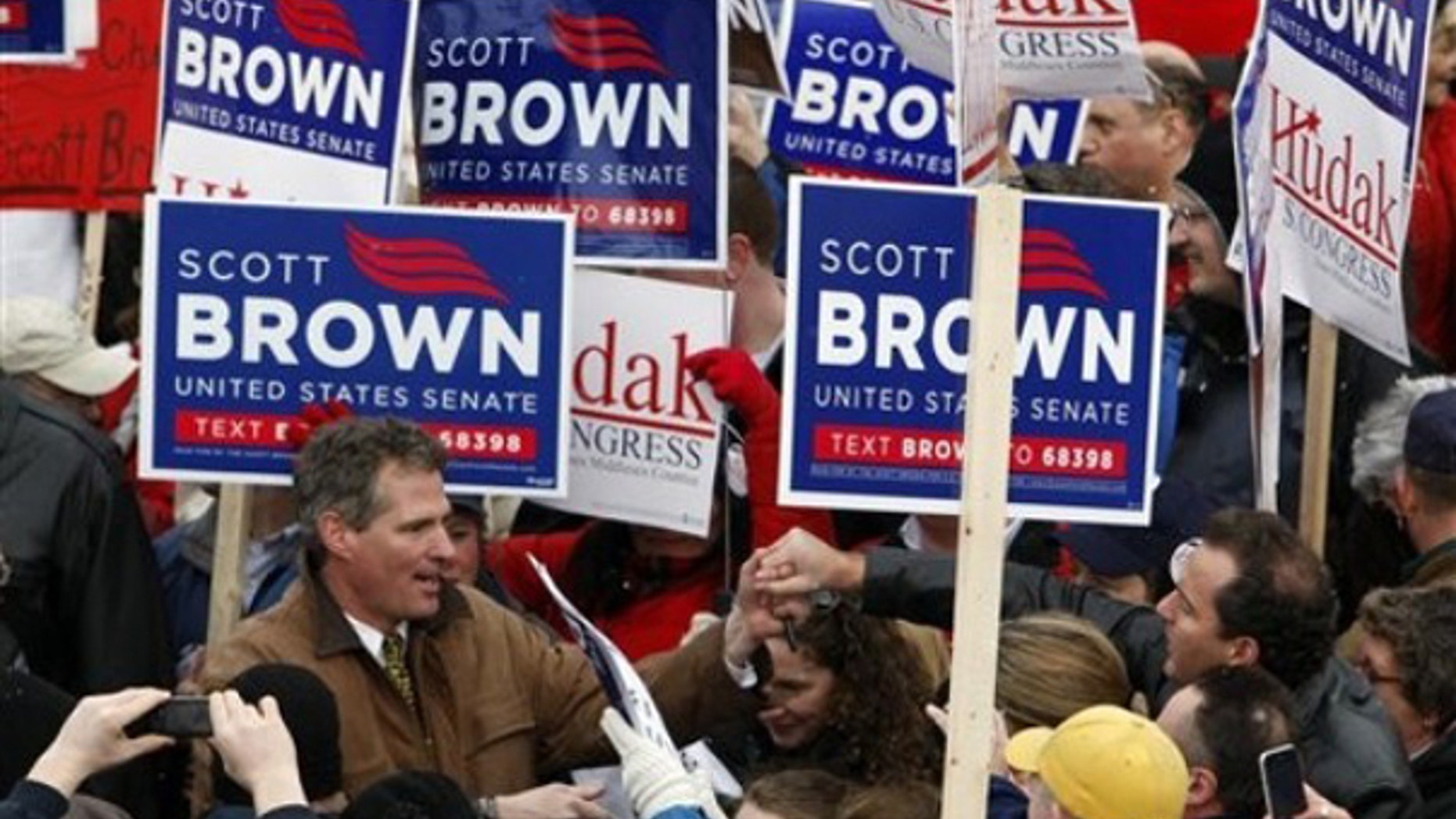 For GOP candidate Scott Brown to surge in Massachusetts, a state that hasn't sent a Republican to the Senate since 1972 and is represented entirely by Democrats in Congress, he must have done something right.
And the Republican Party should be taking notes, analysts say, to try to replicate his strategy in races across the country in a year when GOP candidates are thought to be starting out with the upper hand.
With his victory Tuesday, the Massachusetts state senator proved that a Republican can be competitive in the bluest of states or districts.
"Every Republican long shot in America -- for House seats, Senate seats, gubernatorial contests, is going to shout in unison, Remember Scott Brown," said Larry Sabato, director of the University of Virginia Center for Politics.
Surely the GOP state senator benefited from some unique circumstances. Democrat Martha Coakley made missteps in the closing weeks of the race and has been criticized for not being pro-active enough in protecting what was once her substantial lead. The race also generated tremendous national interest because of Brown's ability to break the Democrats' supermajority should he win.
But Brown practiced a certain practical conservatism in his campaign which appealed to voters, not unlike Chris Christie in the race for New Jersey governor and Bob McDonnell in the race for Virginia governor.
By concentrating on fiscal issues and focusing his criticism on the national Obama administration agenda, Republicans said, Brown brought himself to the verge of an upset.
"The lesson I take away from Massachusetts, win or lose, and New Jersey and Virginia prior to that, is there is no penalty to be paid for opposing the Obama agenda," said GOPAC Chairman Frank Donatelli. "All three of these elections were nationalized."
He said GOP candidates have to stand for something and they can't just present themselves as the anti-Obama candidate. But he said Brown achieved this balance -- noting that Brown, an Army reservist and seasoned state legislator, hardly came out of nowhere.
"I'm not suggesting that somebody can just come out of the blue and do this. We have to recruit good candidates," Donatelli said. He predicted the Massachusetts race would be "rocket fuel" for those efforts, as well as for fundraising.
John Feehery, a Republican strategist and past aide to former House Speaker Dennis Hastert, said Brown surged because he appealed to fiscal conservative beliefs -- not necessarily Republican Party talking points.
"Brown really did kind of emphasize fiscal issues, and that is a thing that unites the independents with the more traditional Republican base and the tea partiers," he said.
He said Brown did well by not presenting himself as a Washington Republican. Driving around the state in his pickup truck, Brown referred to himself as a "Scott Brown Republican" in what appeared to be an appeal to independents. Instead of dragging out the party brass to support him, Brown enlisted figures like former Red Sox pitcher Curt Schilling and actor John Ratzenberger.
"People don't want lockstep," Feehery said. "They want independent thought and somebody who's going to be an independent check on Obama."
He said the GOP needs to be prepared for the Democrats' response to the race as well.
"Republicans have to not only learn from what Brown did right but learn what Coakley did wrong, and expect the Democrats are going to fight a new battle and then be ready for that," he said.
Coakley's campaign reportedly is already pointing fingers over the race, and already learning the kind of lessons Feehery talked about.
A campaign memo obtained by Politico.com noted that Brown "capitalized" on concerns about national Democratic policies. The memo accused national Democrats of not coming to Coakley's aid quickly enough.
Even Obama senior adviser David Axelrod said Brown ran a "very clever campaign."
It's unclear whether the Republican Party is in such an introspective mode, but Republican National Committee Chairman Michael Steele sent out a memo Tuesday touting the level of GOP cooperation in the state.
"Never in the history of our party have so many fellow Republicans from all over the country worked so hard to help another state. This is a model for campaigns of the future," he said.
FoxNews.com's Judson Berger contributed to this report.