Brother of Mexican-American judge maligned by Trump defends his integrity, career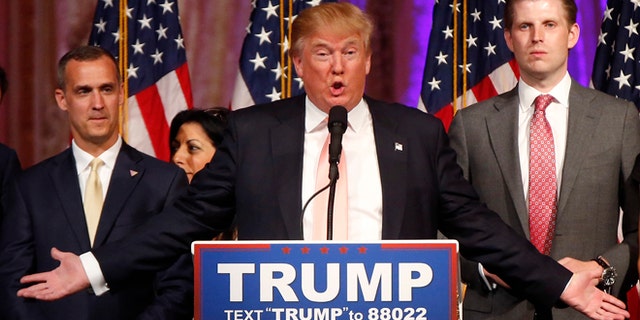 NEWYou can now listen to Fox News articles!
The brother of the federal judge lambasted by Donald Trump, who has called him unfit to hear a lawsuit involving Trump University, said the real estate mogul and presumptive Republican nominee is ignorant in questioning the judge's ability.
"I think it's more not knowing. Yeah, I would say ignorance," Raul Curiel told CNN about Trump's dismissal of his brother, Judge Gonzalo Curiel. "I don't think he is strictly an outright racist like some of your Ku Klux Klan. Those kind of people really are racist. They have no redeeming qualities. Trump, I don't believe, is that caliber of person. But he is very, very uninformed."
Trump University is the target of two lawsuits in San Diego and one in New York accusing the business of fleecing students with unfulfilled promises to teach secrets of success in real estate. Trump has maintained that customers were overwhelmingly satisfied.
Trump has said that Curiel's Mexican heritage means he cannot ensure a fair trial involving a billionaire who wants to build a border wall to keep people from illegally entering the United States from Mexico. Curiel was born in Indiana to Mexican-born parents — making him, in Trump's view, "a hater of Donald Trump."
Trump's legal team has not sought to have Curiel removed.
Curiel said that his brother worked hard to get to the position he holds today – working one summer at a BP oil refinery to help pay for college – and questioned Trump's motives for attacking him.
"I think this is unheard of in any political campaign," Curiel said. "I think Trump feels that this division is working in his favor but he's actually creating the bigger division as we speak."
He added: "My concern is that it's hurting other people. It's hurting our image as sons of immigrants. It hurts our people in general … Being a Hispanic, it hurts these kinds of things. It doesn't hurt me personally. And I don't think it hurts my brother personally. We're above those kinds of things."
Trump's comments not only earned him an earful from the judge's brother but from numerous officials in his own party.
Senate Majority Leader Mitch McConnell said that he "couldn't disagree more" with Trump's argument, while Speaker of the House Newt Gingrich said it was "one of the worst mistakes Trump has made. I think it's inexcusable."
Their remarks solidify the line GOP leaders have drawn in recent days between themselves and Trump, with whom they've made a fragile peace over their shared sense that almost anyone would be a better president than Democrat Hillary Clinton.
The GOP pushback against Trump started days before presidential primaries in California, home to more Latinos than whites. It's the final major battleground between Clinton and Vermont Sen. Bernie Sanders. Far ahead of Sanders in the delegate race, Clinton is poised to clinch her party's nomination in the next few days.
Trump has no more competition for the GOP nomination, but he does have significant issues with the most senior elected members of the party he hopes to lead.
The Associated Press contributed to this report.