British spy behind Trump dossier ordered to give deposition in BuzzFeed suit
The former British spy who put together an unverified dossier of explosive allegations about President Trump during last year's campaign has been ordered to give a deposition in a multi-million-dollar libel case brought against a media outlet that published the document.
Former MI-6 British Intelligence Officer Christopher Steele is fighting the decision by U.S. District Court Judge Ursula Ungaro, of the Southern District of Florida that he must answer questions in the suit against BuzzFeed. A lawyer directly involved in the case said the issue will likely be argued before the British courts where a similar libel case is being heard.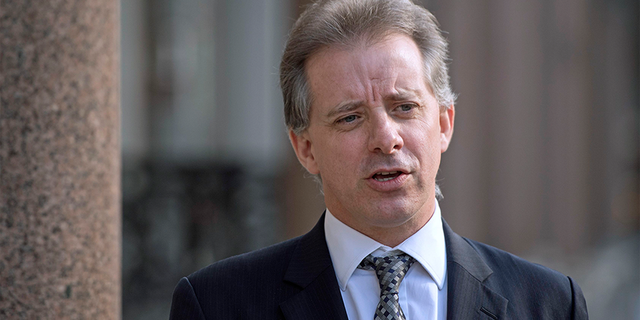 Steele's London-based company, Orbis Business Intelligence, authored the 35-page dossier while working for American-based Fusion GPS and its founder Glenn Simpson. The document, which was crafted as opposition research for unknown political rivals of Trump, contained salacious charges involving Trump and Russian prostitutes, but none of the claims have been corroborated and most media outlets steered clear of the dossier.
In January, BuzzFeed set off an international firestorm when it chose to publish the entire dossier, which also included seamy allegations involving Russian technology guru Aleksej Gubarev and his companies, XBT Holdings and Webzilla.
The dossier claimed XBT and Webzilla used "botnets and porn traffic to transmit viruses, plant bugs, steal data and conduct 'altering operations' against the Democtratic Party leadership."
"That dispute will move to London, where we expect Mr. Steele will continue to try to avoid being deposed."
Gubarev's Boston-based attorney, Evan Fray-Witzer, told Fox News he asked the Florida judge to help ensure Steele answer questions.
"We asked the Court in Florida to issue a 'Request for International Judicial Assistance,'" Fray-Witzer said. The request would have the Florida court ask its British counterpart compel Steele submit to a sworn deposition that would be taken in London and videotaped to be played to the jury at trial.
Steele's lawyers unsuccessfully asked Ungaro to reject the request.
"That dispute will move to London, where we expect Mr. Steele will continue to try to avoid being deposed," Fray-Witzer said.
While the libel suit does not directly involve Trump, a jury trial could prove explosive as the dossier and Buzzfeed's vetting process would undergo a thorough examination
"We are absolutely looking forward to a jury trial," Fray-Witzer said. "Buzzfeed published the dossier - and the comments about our clients - without having made any effort whatsoever to determine if the things said about our clients were true. They don't even claim otherwise."
The dossier was repeatedly shopped around on both sides of the Atlantic and to various media outlets during the heated 2016 U.S. presidential campaign. The charges it contained were damning to Trump both personally and in terms of purporting to show how Russia sought to help him with hacking, leaks and fake news stories.
"We know from what Steele has said in the British lawsuit that - at Fusion's instruction - he briefed reporters at The New York Times, the Washington Post, Yahoo News, the New Yorker, CNN and Mother Jones about the dossier," Fray-Witzer said. "To their credit, not a one of them actually published the dossier. Only BuzzFeed did that and we think that says something about where BuzzFeed's priorities were. This was about "clicks," not about responsible reporting."
Nicola Cain, one of Steele's British attorneys, declined comment, stating that she has "no instructions to speak about their client to the press."
Steele reportedly met with the FBI on Aug. 22. The dossier was part of the evidence the FBI used to obtain a FISA warrant to monitor communications of Carter Page, a peripheral adviser in the Trump campaign. Former FBI Director James Comey considered the dossier so important that he insisted it be included in January's final Intelligence Community Report on Russian meddling in the election and reportedly offered Steele $50,000 to corroborate the dossier---something the bureau denies paying.
Meanwhile, Simpson, a former Wall Street Journal reporter who, as founder of Fusion, hired Steele to create the dossier, was behind closed doors in Washington, D.C. On Wednesday, he spent 10 hours with Congressional investigators assigned to the Senate Judiciary Committee chaired by Sen. Chuck Grassley, R-Iowa, who has been perturbed with the level of cooperation his Senate Judiciary Committee has received from Simpson and his attorney.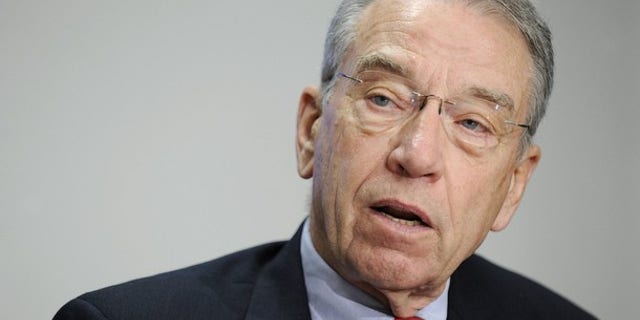 "Fusion's initial production of documents consisted of solely of headlines from publicly available news reports and more than 7,500 pages of blank paper," Grassley spokesman Taylor Foy said. "Fusion eventually provided a copy of the same unverified dossier that's been publicly available since January, and a privilege log that raises more questions than it answers."
Fox reported this week that Fusion GPS gave the committee 40,000 documents.
The records were finally provided by Simpson and his legal team after Grassley sent several letters raising questions about the dossier, moved a Judiciary Committee hearing to accommodate Simpson's schedule, and withdrew a subpoena in return for a pledge of cooperation.
"I'd note that only after the subpoena did Simpson indicated any willingness to cooperate voluntarily, yet the documents produced by his legal team have not been responsive to the committee's questions," Foy said.
Simpson's attorney, Joshua Levy, did not respond to Fox's emails asking how 7,500 blank pages complied with the senate committee's request, and why he apparently told Politico, when the senate committee issued a subpoena July 21, his client was unavailable and travelling overseas when Fox News found Simpson at an Aspen security conference.
Fray-Witzer was surprised at these tactics.
"I honestly can't imagine why Fusion GPS would think that stonewalling the Senate Judiciary Committee was a good idea," Fray-Witzer said. "The only thing that would be a worse idea would be if they tried something similar in the BuzzFeed lawsuit. We have an incredibly smart judge who doesn't suffer fools gladly. I don't think Fusion would enjoy trying to explain that kind of a response to Judge Ungaro."
According to court filings, BuzzFeed's legal team expects responses by Aug. 25 to "subpoenas served for depositions and production of documents from several third party witnesses, including several government agencies and their former officials. These include the FBI, Department of Justice, Office of the Director of National Intelligence and CIA, as well as Comey, and Obama intelligence bosses James Clapper and John Brennan. Each federal agency declined to comment on the case, citing "ongoing litigation."
Fox News' Catherine Herridge contributed to this report