Border towns brace for sequester's budget squeeze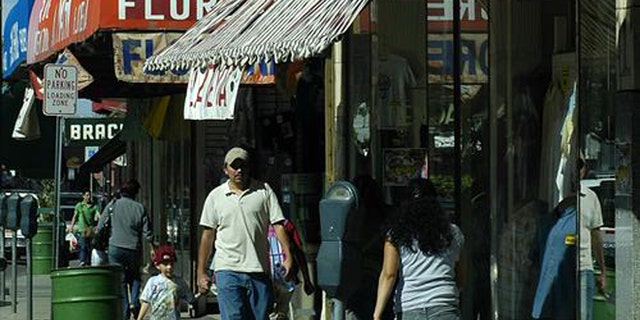 NEWYou can now listen to Fox News articles!
In the tiny border town of Nogales, Ariz., it's the small shop owners, restaurant workers and independent businessmen and women who are bracing for the sting of sequester. They know the government spending cuts will start Friday. And they know their livelihoods will be affected.
Located along Arizona's southern edge, Nogales is the state's largest international border town and a major gateway along the U.S.-Mexico line. It's the economic capital of the region and can see up to 80,000 visitors in a single day. People come there to see friends and family -- and to spend money. The border businesses sell everything from Aspirin to tamales and are the financial engine of the local economy.
Nogales Mayor Arturo Garino told FoxNews.com he's worried what the cuts could mean for his town.
"There are a lot of places to go shopping but people might get bored waiting for entry at the border and decide it's not worth it and go home," he said.
Lawmakers are deeply divided over whether the spending cuts will be as bad as administration officials say. On Monday, Homeland Security Secretary Janet Napolitano warned her agency would be forced to furlough 5,000 Border Patrol agents and cut 2,750 customs officers. U.S. Customs and Border Protection is looking at more than $500 million in cuts, scaling back overtime and imposing furloughs up to 14 days this year.
Napolitano said cuts at the nation's 329 ports of entry would result in longer wait times within the next few weeks.
"I'm not afraid of security at our border being compromised," Garino said. "I'm afraid of what the cuts could mean for our economy."
Republicans argue that the Obama administration is using scare tactics as leverage and says the cuts won't be so bad.
But across the country, the anxiety surrounding them has already put hundreds of independent business owners in military and border towns on edge.
Earlier this week, Arizona Sen. John McCain told constituents that the automatic spending cuts would cost his state 49,000 jobs and nearly $5 billion in economic output.
According to Stephen Fuller, director of the Center for Regional Analysis at George Mason University, the smaller and more specialized a store is, the more vulnerable it is to sequestration. Fuller testified before Congress in September about the effects of spending cuts on small businesses. He predicts 1.4 million lost private-sector jobs.
"However you allocate the consumer budget across the economy, there's a large number of small businesses," he said, adding that they would suffer from the reduced federal and private sector payroll because of the important role they play in the consumer economy.
Just outside Las Cruces, N.M., RTD Hardware owner Richard Trujillo tells FoxNews.com he's hoping for a last-minute D.C. deal to stop the cuts. Most of his customers work at the White Sands Missile Range.
The base, which contributes about $2.3 million a day to the regional economy, has been gearing up for the fiscal slowdown for weeks. And by default, that means Trujillo has been too.
"We're definitely feeling it," Trujillo, who sells hardware, plumbing and repair supplies for indoor and outdoor projects, said. "This is going to be a tough one."
Trujillo, who relies on business from the government -- both directly and indirectly -- says he's not sure how long it will take for his business to bounce back and says he's already scaled back on staffing.
"I would have probably hired two more people to help out but haven't been able to," he said.
Trujillo says his establishment will be hit twice by the looming set of spending cuts. His family-run business is divided into two parts -- a commercial side that serves the missile needs of the government and a private sector side for "walk-in" customers. The problem is that 90 percent of his walk-in customers are employees of the White Sands Missile Range.
"We are so heavily dependent on business from the government and people who work for the government, it's hard not to feel the effects," he said.
At 100 miles long and 40 miles wide, White Sands Missile Range is the largest testing range in the country. Close to 9,000 people work there and of that, about 80 percent of the salaries go to civilian workers or contractors like RTD Hardware.
Trujillo's daughter, Theresa Gonzalez, runs the business with him.
She says White Sands is saddled with cutbacks and worries it's only going to get worse.
The facility, which tests weapons soldiers use in combat overseas, is already under a hiring freeze, has stopped some travel and training and may not renew its contracts with outside businesses.
There's also the possibility furloughs could take place -- up to 22 days this year.
Trujillo says the uncertainty is hitting younger workers the hardest.
"The older ones don't seem to be as nervous," he said. "The younger ones are afraid they are going to get laid off so they won't come in to buy anything."