Booker wins New Jersey Senate race, Dems keep seat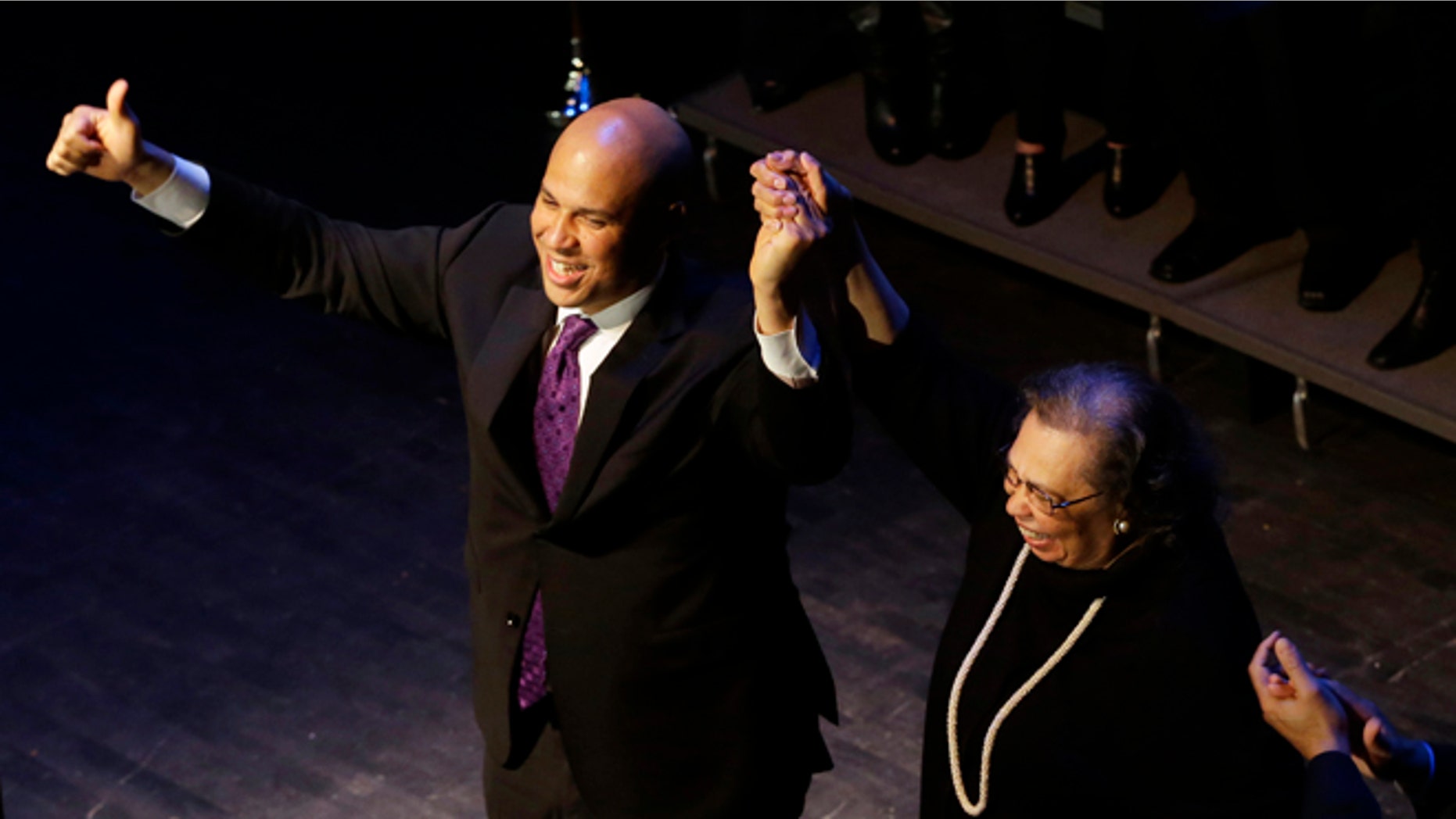 New Jersey Democrat Cory Booker on Wednesday won the state's special Senate election – keeping the open seat for his party.
"Thank you so much, New Jersey," Booker said on Twitter. "I'm proud to be your senator-elect."
The Associated Press declared Newark's high-profile mayor the winner over Republican Steve Lonegan, 55-to-44 percent, with 99 percent of polls reporting.
In a speech later to supporters in Newark, Booker spoke, as he often does, of the unity of the American people.
"That's why I'm going to Washington -- to take back that sense of pride. Not to play shallow politics that's used to attack and divide but to engage in the kind of hard, humble service that reaches out to others.
He also told of how his father, who died last week at 76, taught him about love and hard work, values he says he'll carry to the Senate.
The 44-year-old Booker fills the open seat of Democratic Sen. Frank Lautenberg, who died in June. He becomes the second African-American in the Senate along with Republican Tim Scott of South Carolina.
Lonegan cut into Booker's early, 27 point lead in the final weeks but got no closer than 13 points in the final days – even after the country's largest Tea Party political action committee brought 2008 GOP vice presidential candidate and former Alaska Gov. Sarah Palin to New Jersey last weekend.
Booker also relied on some star power, including fundraising help from Oprah Winfrey.
Voters went to the polls as Capitol Hill lawmakers voted to end the partial government shutdown -- a fiscal crisis that helped define each candidate's political platform during the two-month campaign.
Booker accused Congress of failing voters by not finding a way to work together while the Tea Party-backed Lonegan supported the shutdown fight, arguing against the ObamaCare concept of government-directed health insurance and calling for a one-year delay.
Republican Gov. Chris Christie ordered the election held Oct. 16, the soonest date the law allowed following an unprecedented August primary.
Critics accused the governor of keeping the race off the Nov. 5 ballot, when he is up for re-election, to make it easier for him to win big as a Republican in a Democratic-leaning state and aid his potential national ambitions. During his first debate, he refused to rule out a run for president in 2016.
Lonegan, 57, the former state director of Americans for Prosperity, a group advocating limited government that was founded by the billionaire Koch brothers, ran an aggressive campaign.
"We want a leader, not a tweeter," he said at one point, referring to the mayor's prolific use of Twitter, where he has 1.4 million followers.
Booker was forced off-message to explain G-rated correspondence with a stripper he met while filming a social media documentary. Lonegan was forced to dump a long-time strategist after a lengthy, profanity-laced interview with a political web site in which he claimed Booker's banter with the stripper "was like what a gay guy would say."
While in Newark, Booker has worked with Christie on common education goals, such as ending lifetime teacher tenure and increasing the number of charter schools. Newark schools remain under state control.
Lonegan repeatedly knocked Booker for the city's high crime rate and unemployment. At one point in the campaign, Booker announced a new crime-fighting strategy to cope with a string of 10 homicides in 10 days.
Lonegan, the onetime mayor of small-town Bogota in Bergen County, said he, too, has reached across the aisle in working with a Democratic borough council.
But Booker painted him as a Tea Party extremist, one who would -- if sent to Washington -- make the capital's gridlock worse.
The Associated Press contributed to this report.