Boehner Suggests Small U.S. Force Remain in Iraq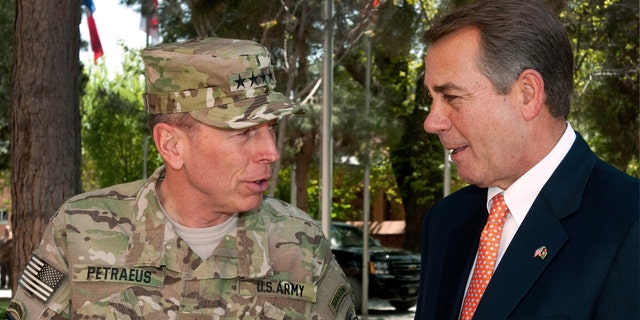 NEWYou can now listen to Fox News articles!
WASHINGTON -- Republican Rep. John Boehner, the senior member of the U.S. House of Representatives, said Tuesday a small, residual U.S. force should remain in Iraq beyond the end of this year, the final drawdown date for the Americans.
Boehner said it was imperative for the Obama administration to talk to the Iraqi government about extending the U.S. presence beyond Dec. 31.
"It's pretty clear to me there are gaps in the security arrangement of the Iraqi people beginning the first of next year," said Boehner, who traveled to Iraq, Pakistan and Afghanistan last month. He said Iraqi Prime Minister Nouri al-Maliki "made clear to me there are gaps, that there is assistance that they're going to need. And I would hope that our military and diplomatic officials begin serious conversations with Iraqis about identifying those gaps in security and try to come to an agreement as soon as possible."
Boehner spoke in an hour-long interview with a handful of reporters Tuesday.
Defense Secretary Robert Gates has urged the fractious Iraqi government to decide "pretty quickly" whether it wants to extend the U.S. operation to continue training of security forces. Gates shares the view of many in the U.S. military that a longer U.S. stay would be useful in ensuring that Iraq's security and political gains do not unravel, but publicly he has insisted that the decision is Iraq's.
Boehner said a small, residual force would make sense.
"We have too much invested in treasury and lives to simply just walk away," he said.
Boehner acknowledged that al-Maliki would have to make the request, which would be a hard sell with the parliament and the Iraqi people.
The presence of the U.S. military is unpopular in Iraq, even though many Iraqis say they are glad that the U.S.-led war removed President Saddam Hussein. They are looking to the U.S. departure eight years after the war began.
Last month, the prime minister told Gates that he expects all U.S. troops to be out of Iraq by the end of the year as required under a 2008 security agreement between the U.S. and Iraq.