Boehner Plays Numbers Game, Hopes to Hold Republicans with New Debt Plan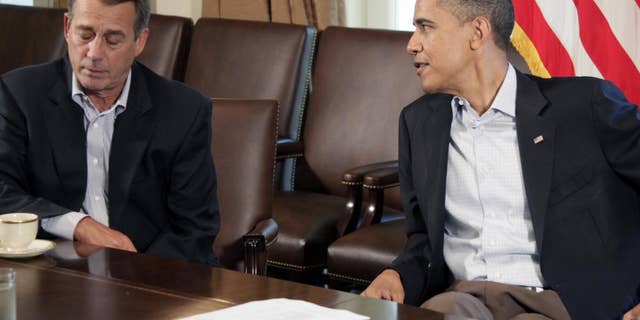 NEWYou can now listen to Fox News articles!
The House Republican leadership will pitch to its members Monday legislation that includes a $1.2 trillion cap on discretionary spending; a new plan that Speaker John Boehner hopes will go all the way in addressing the debt ceiling crisis.
Fox News has learned the most important component in this proposed legislation is that this bill represents an agreement between Senate Leaders Harry Reid and Mitch McConnell and Boehner, but is something the White House rejected.
In essence, this would force Obama to sign it to avoid default. Most think he would be hard pressed not to do so.
The bill will feature a select committee of 12 members from both houses of Congress that will be tasked with finding more savings.
A House GOP aide adds the bill would require the twelve-person panel (3 Democrats/3 Republicans from both houses) to produce a deficit-reduction proposal that amounts to at least $1.8 trillion in savings over ten years. The commission would have to produce a product by November 23 and its report would have to pass Congress to raise the debt ceiling by enough to get the federal government to 2013.
This committee will be given unprecedented jurisdiction and authority and fast track powers through the House and Senate.
It would also require both chambers of Congress to vote on a balanced budget amendment (but not the primary one offered by Rep. Robert Goodlatte, requiring a two-thirds vote of Congress to increase taxes).
This bill would raise the debt ceiling by $900 billion, well less than half of the present request. Thus, the special panel could in fact note other cuts and result in another debt ceiling increase.
That could match the GOP's dollar for dollar demand that every dollar of debt limit increase would require a dollar of savings.
With 433 seats in the House currently occupied (and Rep. Gabrielle Giffords of Arizona not voting), the magic number for passage here is 217.
House Republicans control 240 seats, so the GOP can lose 23 members before they have to rely on Democrats. They got a handful of moderate Blue Dog Democrats on "Cut, Cap and Balance" legislation that passed last week: Reps. Dan Boren, Heath Shuler, Jim Cooper, et al. The legislation was killed in the Senate.
The high-water mark for the GOP was the 59 they lost in April on the Continuing Resolution to avert a government shutdown.
Today it is expected that Speaker Boehner will ask for some "give" from House Republicans, and the text of the bill should be posted sometime Monday night.
If Republicans post the bill to the House Rules Committee website by 11:59:59p ET that means they can bring the bill to the floor Wednesday for debate and a vote.
The Rules would start Tuesday setting up the structure for handling the bill on the floor.
Don't expect hard-line conservatives and some Tea Party folks to be ecstatic about this bill. It will be interesting to see how much "sacrifice" Boehner can get out of his conference before he has to lean on Democrats for support to lug a bill across the finish line.
Fox Business Network's Rich Edson contributed to this report.