Boehner battles primary challengers, with focus on November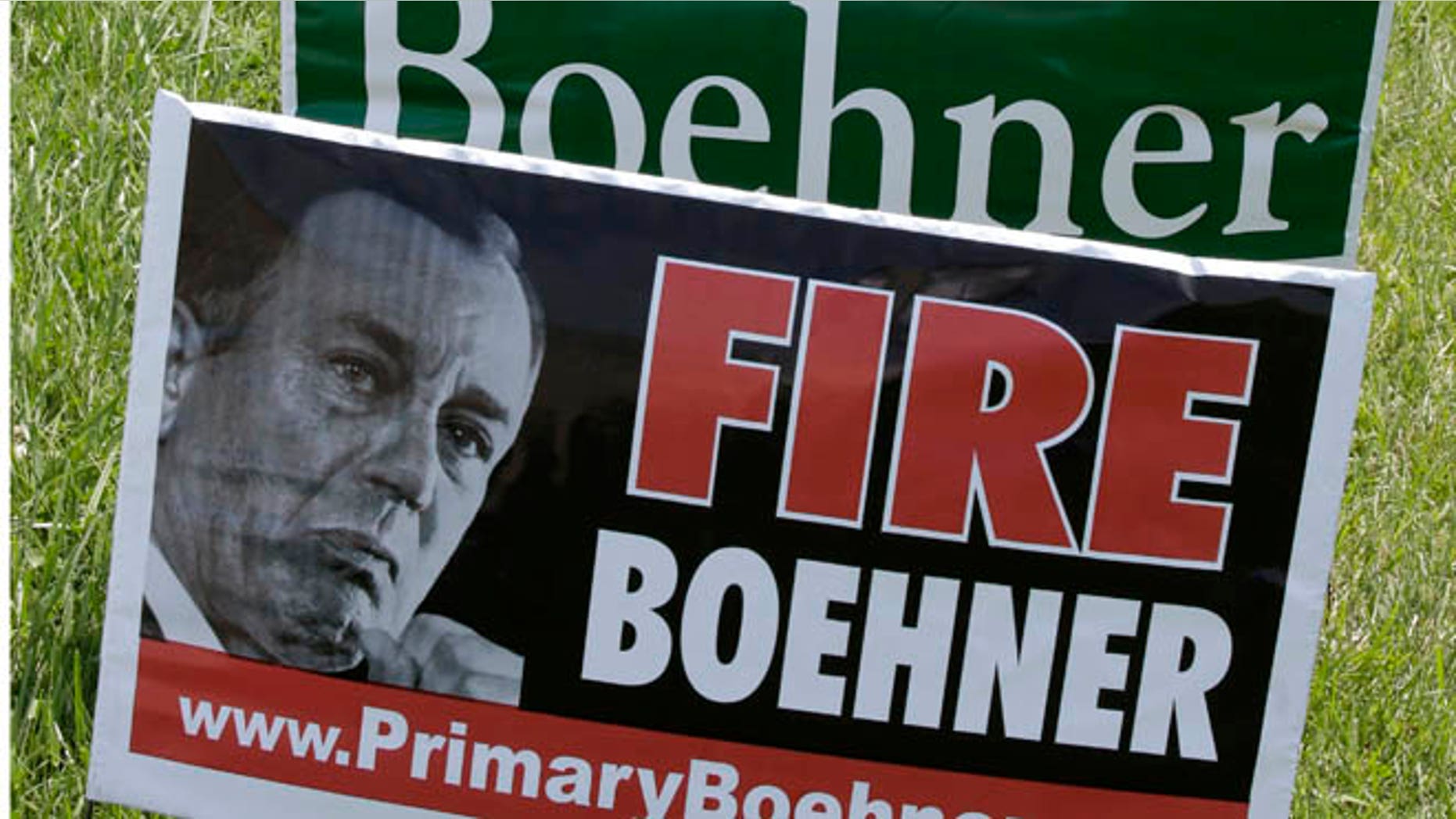 House Speaker John Boehner is trying to fend off Tea Party-aligned challengers in a Republican primary Tuesday, as his campaign suggests team Boehner is focused equally on his own race as well as the November midterms.
Boehner hasn't faced such a serious primary test in years, perhaps since he survived his first congressional primary in 1990.
Virtually no political handicappers believe Boehner is in serious trouble. But analysts will be watching to see how deeply his rivals slice into his numbers. He has never received less than 83 percent in a primary since he's been in office. At the same time, an overwhelming win could inflict a blow to his critics.
With no presidential race to energize midterm voters and no major statewide GOP primaries for governor or U.S. senator on the ballot, Boehner is indeed taking no chances on Tuesday.
Boehner's campaign has so far raised roughly $13 million and is running TV ads, while the 12-term congressman has campaigned rigorously across his western Ohio district, despite being expected to secure a victory over three primary challengers including Tea Party-backed candidate J.D. Winteregg.
Boehner campaign spokesman Corey Fritz suggested the well-publicized fundraising and TV ads are geared not only toward Ohio primary voters but toward midterm voters in November.
"We know that Republicans have a big opportunity here in 2014, and the speaker wants to make the most of it," Fritz told FoxNews.com. "So with no significant statewide primary to mobilize and engage voters in Ohio, we're stepping up and doing our part to build a strong foundation for victory up and down the ticket in November."
Still, to reach the general election, Boehner must get past Matthew Ashworth, a mortgage underwriter and Tea Party activist; political novice Eric Gurr; and Winteregg, who has benefited from roughly $320,000 in support from the Virginia-based Tea Party Leadership Fund.
"We take every race very seriously," Fritz added.
The 32-year-old Winteregg has also gained attention for a satirical online ad claiming he offers the remedy for "electile dysfunction," personified by Boehner. The ad is a spoof on ads for the drug Cialis.
Boehner, who first won the seat in 1990, racked up 84 percent of the 2012 vote against one candidate and with no TV ads. He got 85 percent of the vote against two 2010 challengers after three straight uncontested primaries in the Republican-dominated, Cincinnati-area district.
Bryan Marshall, a political scientist at Miami University of Ohio, said there appears to be little doubt about Boehner winning re-nomination, but says his opponents could attract votes from Republicans who are unhappy about the federal deficit, immigration or other issues.
"If these challengers can knock 25 to 30 percent off (Boehner's recent percentages), I think they send a real message to Boehner and the leadership that there is a lot of discontent out there in the base," he said.
In appearances Thursday at a cleaning-systems business in Hamilton and at a Rotary Club brown-bag luncheon at a golf course country club near the city, Boehner discussed issues such as U.S. global leadership, reducing federal government and the need for immigration reform. He appeared irked when a Rotarian asked about Tea Party opposition.
"Well, there's the Tea Party, and then there are people who purport to represent the Tea Party," Boehner said. "I don't have any issue with the Tea Party; I have issues with organizations in Washington who raise money purporting to represent the tea party .... raising money to line their own pockets."
There are some "Fire Boehner" yard signs and other scattered indications of opposition in the district, but there are no widespread media campaigns rivaling Boehner's.
However, Winteregg says the race isn't over yet.
"We've got some more tricks up our sleeves. We think will make an impact," he said Friday while on his lunch break from teaching high school French. "People are ready for something new, something fresh."
FoxNews.com's Joseph Weber and Fox News' Chad Pergram and The Associated Press contributed to this report.