Boehner and Reid Spar Over Blame for Potential Government Shutdown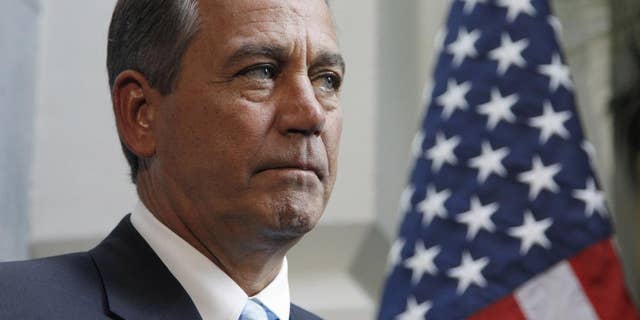 A political blame game between the House and Senate majority parties' leaders escalated across Capitol Hill Thursday as they exchanged accusations about who would be responsible for a potential government shutdown. The newly heated rhetoric makes that outcome seem like more of a possibility.
"Read my lips. We will cut spending," House Speaker John Boehner, R-Ohio, said at his Thursday news conference.
The speaker said he did not know when the House would pass a funding bill for the rest of the fiscal year, but once it passes, he hopes the Senate will take it up.
Boehner added he would not consider a short term continuing resolution funding the government at current levels if the two bodies can't come to an agreement.
"We have some Democrats here on Capitol Hill threatening to shut down the government rather than to cut spending and to follow the will of the American people," Boehner said.
But Senate Majority Leader Harry Reid says a government shutdown would be the fault of House Republicans.
Reacting to the possibility of a shutdown, Reid made a quick stop in front of cameras and reporters and claimed Boehner was wrong to make that threat without negotiating first.
"We're terribly disappointed that Speaker Boehner can't control the votes in his caucus to prevent a shutdown of government," Reid said. "And now he's resorting to threats to do just that without any negotiations. That is not permissible, we will not stand for that, he is wrong."
But a Boehner spokesman pushed back again, saying it is Senate Democrats who would be at fault for a government shutdown.
"If Sen. Reid is unwilling to listen to the American people and cut spending in a temporary CR, he will be responsible for the government shut-down he and Sen. Schumer are rooting for," Boehner spokesman Michael Steel said in an email to reporters.
Earlier, Boehner also clarified comments made this week that if some federal workers lost their jobs due to government spending cuts, "so be it," Boehner toned down some of his characteristic frankness.
"Look I don't want anyone to lose their job, federal or not," he said, "but come on, we're broke."
Boehner made brief mention of the financial stimulus passed two years ago, which was intended to boost a flagging economy. He called it "a failure" and said it was important for Washington to not attempt the similar economic strategies in the future.
In addressing America's largest spending obligation, entitlements such as Social Security and Medicare, Boehner stressed that it was important to make sure Americans "understood the problem" first, rather than "leading with solutions," which he says is often the case in Washington.
Fox News producer Wes Barrett contributed to this report.