Blistering attack ads fill airwaves in battle for Florida's District 26 seat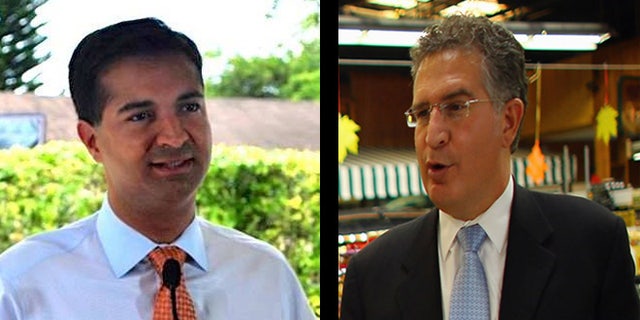 NEWYou can now listen to Fox News articles!
WASHINGTON – The congressional clash for Florida's District 26 seat pits a seasoned Democratic veteran against a young Republican incumbent, and it has been attracting nationwide attention.
The campaign, filled with attacks from each side on the candidates' policies and character, is a rematch between Democrat Joe Garcia and Republican Carlos Curbelo.
Blistering attack ads have filled the airwaves across the Sunshine State. In an anti-Curbelo spot, for instance, a voter warned, "Carlos Curbelo and Donald Trump? They're more alike than you think."
Another ad blasts Garcia and what it refers to as a history of corruption. "Remember why you got rid of former Congressman Joe Garcia? The scandals, election fraud," the voiceover narrator says.
During an Oct. 13 debate at Belen Jesuit School in West Miami-Dade, Curbelo said an investigation into Garcia's 2010 campaign makes him unfit for office. "Your campaign recruited and illegally financed a straw candidate," he said. "You knew about this crime. There are court documents that reflect that you knew about this crime. Your former chief of staff, former campaign manager, and very close friend went to jail for you."
Garcia, 53, countered that he and his staff were exonerated. "We were investigated fully up and down. Full disclosure. And we were not involved. We were cleared," he said.
Garcia argued Curbelo, 36, is not being transparent with voters, after refusing to release a list of former clients.
Curbelo said he's done nothing illegal. "I have disclosed all of the information that is required by the law," he said.
An audio recording of Garcia talking about Democratic presidential candidate Hillary Clinton is also taking center stage.
The debate moderator confronted Garcia about his remarks, "You said 'Hillary is under no illusions that you want to have sex with her, or that she's going to seduce you, or outthink you.' What exactly did you mean by that?" the moderator asked.
Garcia said the comments had been taken out of context. "It was followed by the line, 'This is about competence, exceeding competence.' Look, it was a stupid statement, and I apologized for it immediately," he said, "but clearly, what we were talking about is leadership and the fact that women are held to different standards."
Curbelo deemed these statements to be careless and irresponsible. "It's comments like that that disqualify Mr. Garcia," he said.
Amid the attacks, both have laid out policies. Curbelo's immigration stance has been the center of attacks by Democrats.
An anti-Curbelo ad states, "Carlos Curbelo says he has our back on immigration reform, but he gives money to people who oppose it."
At the Belen Jesuit debate, Curbelo laid out a four-pronged approach to reform:
"We must have border integrity in this country."
"We must have visa reform."
"We need to have a guest worker program."
"We need to make a path to citizenship for those families who are undocumented but who are contributing to our economy."
Garcia agrees, but when it comes to the Cuban embargo, on the other hand, he does not share Curbelo's support. "We had a policy in place for half a century, and it failed," said Garcia. "Nobody is fighting harder the U.S. policy than the Cuban government. Why? Because they fear freedom, and they fear the opportunities out there."
Curbelo reiterated his defense of the embargo "Why would we want to strengthen a government that hates this country and that is hellbent on defeating us on the world stage?"
Early voting gets underway Monday in Miami-Dade and Broward counties and ends Nov. 6. Election Day is Tuesday, Nov. 8.
For more Miami stories visit fox7news.com.
Like us on Facebook
Follow us on Twitter & Instagram