Blankenship brawl tops roster of hard-fought Senate contests as primary voters have say
The battle for control of the Senate will kick off in earnest Tuesday evening, once voters render their verdict in three closely watched primary battles -- but none more gripping and unpredictable than the brawl in West Virginia.
Indiana and Ohio also are holding Senate primaries Tuesday, and all three are states where Republicans hope to knock off a potentially vulnerable Democratic incumbent this fall. But the surge of an ex-convict and former coal baron with a penchant for shock value has made West Virginia the marquee race.
Don Blankenship, jailed in connection with a tragic 2010 mining disaster in which 29 died, appears to be in a tight race with Rep. Evan Jenkins and state Attorney General Patrick Morrisey.
Whoever wins will go up against West Virginia Democratic Sen. Joe Manchin. Republicans see him as a target given the state went for President Trump in 2016 with 68.7 percent of the vote, though the GOP may have a challenge unseating him no matter who wins Tuesday night.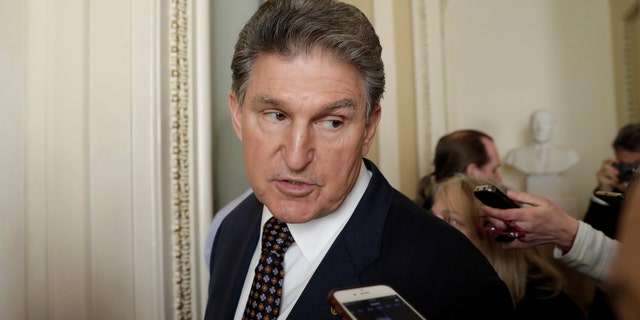 Blankenship's self-funded, outsider bid continues to captivate disaffected voters, even with his racially insensitive remarks. But Trump himself has intervened in a bid to sideline Blankenship's wrecking-ball campaign. Trump tweeted on Monday that Blankenship can't win in November.
On Tuesday, Blankenship dismissed all the attacks against him.
"They are calling me a bigot, a moron, a despicable character and mentally ill," Blankenship says in a final radio ad. "But even if all of this is true, I will do a better job than they have done."
Republicans looking to increase or at least safeguard their narrow, 51-49 Senate majority have considered West Virginia a key opportunity to swipe a Democrat seat. But they also see strong possibilities in Indiana and Ohio, both of which Trump also won in 2016.
That essentially every Republican candidate running for a Senate seat Tuesday has a pro-Trump platform is no surprise, perhaps nowhere moreso than in conservative-leaning Indiana, the home state of Vice President Pence.
However, the big concern within the GOP is that their top three candidates in Indiana -- former state lawmaker Mike Braun and Reps. Luke Messer and Todd Rokita -- have spent so much energy attacking one other and trying to out-Trump the field that the winner could be too damaged by November to defeat Democratic incumbent Sen. Joe Donnelly.
They've adopted the president's harsh immigration rhetoric and taken to the president's tactic of assigning derisive nicknames to one another like "Lyin' " Todd Rokita, Luke "Missing" Messer, and "Tax Hike" Mike Braun.
Donnelly, a freshman senator, is running unopposed in Tuesday's Democratic primary and has $6.1 million in available campaign cash, according to OpenSecrets.org.
Braun is considered the favorite, but Messer and Rokita are screaming that he's a Republican in name only.
"If the listeners get one thing out of this debate, I think it's important that they understand Braun is a lifelong Democrat," Messer said in a recent campaign forum, backed by such evidence as records indicating Braun voted in Democratic primaries until 2012 and him having been listed in Republican National Committee voter databases as a "hard Democrat."
Braun says he is a conservative Republican but has voted in past Democratic primaries to have a say in local races dominated by Democrats.
Republicans saw opportunity early in this midterm cycle to win a couple of Senate seats among the 35 up for reelection this year -- considering they have to defend just nine, compared with 26 for Democrats, including two for independents who caucus with their party.
But winning in West Virginia and Indiana has become increasingly important for them in recent months, now that Democrats are posing credible challenges to GOP-held Senate seats in Arizona, Nevada and Tennessee.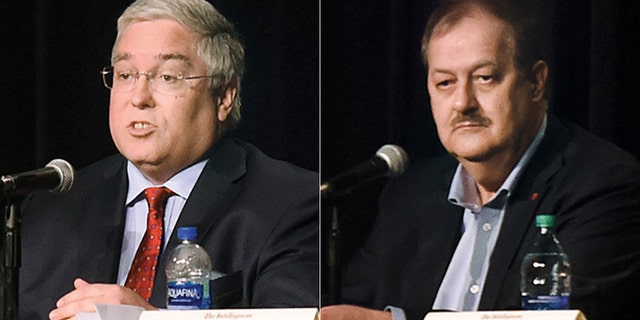 In Ohio, the favorite in the GOP Senate primary appears to be Rep. Jim Renacci, whom Trump has endorsed.
"He'll be fantastic," the president said of Renacci at a public event they attended Saturday in Cleveland touting the recent GOP tax cuts. "We need his vote very badly."
Renacci entered the race earlier this year after state Treasurer Josh Mandel dropped out because of a family health issue.
He faces businessman Mike Gibbons. Trump won the swing state in 2016. But the GOP primary winner will likely have a difficult time defeating two-term Democratic Sen. Sherrod Brown.
Fox News' Power Rankings list the race as "lean Democrat," as does RealClearPolitics.
Gibbons, in a final-days attack, filed a million-dollar lawsuit Friday against Renacci, alleging he has made "defamatory statements."
"I believe the voters are tired of what's going on and, Jim Renacci, I have hundreds of pages of his lawsuits," Gibbons said. "He's a bully, he's [a] wealthy guy that bullies people with lawsuits. It's time to give him a little of his own medicine."
Said Renacci: "Mr. Gibbons has decided to do something that's kind of unusual in politics, but it is what it is."
In West Virginia, Morrisey has launched a late attack against Blankenship, who served a year in jail in connection with the coal company he led being connected to the Upper Big Branch Mine explosion in West Virginia in 2010.
On Saturday, Morrisey started using robocalls to potential voters saying: "Convicted criminal Don Blankenship didn't vote for President Trump and is a resident of Nevada, where he must report to his parole officer."
On Sunday, he moved to have Blankenship disqualified from the primary for failing to submit a financial disclosure, in violation of election law and perhaps of his probation.
Blankenship's campaign said the candidate has already spoken to his probation officer, who wasn't concerned about the financial disclosure.
Blankenship has also taken direct aim at the Republican establishment by attacking Senate Majority Leader Mitch McConnell -- calling him "Cocaine Mitch."
He is apparently trying to link the Kentucky Republican to a 2014 news report about drugs purportedly being found on a ship owned by his in-laws.
Jenkins, speaking to Fox News, also went after Morrisey for his past pharmaceutical lobbying work.
"We don't need a D.C. lobbyist who made millions of dollars peddling pills in our state," he said.
Fox News' Peter Doocy and Ellison Barber and The Associated Press contributed to this report.