Blagojevich on Trial: Take Two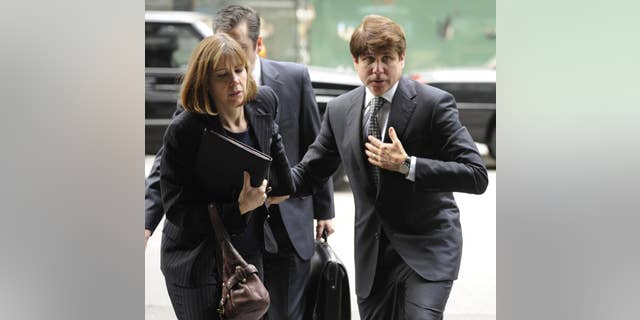 NEWYou can now listen to Fox News articles!
Federal prosecutors' new strategy in the retrial of impeached Illinois Gov. Rod Blagojevich could be summed up in three words: keep it simple.
During opening statements Monday, prosecutors relied on a basic power point presentation to help break down the five crimes or so-called criminal shakedowns Blagojevich is accused of committing as governor.
At the very top of the list was the "Senate seat shakedown," referencing Blagojevich's alleged attempt to sell President Barack Obama's U.S. Senate seat to the highest bidder in exchange for campaign contributions. Prosecutors call it a classic example of pay-to-play politics.
The prosecutor delivering opening remarks told the jury, "The governor of Illinois was shaking people down... He betrayed the people of Illinois... Each of these shakedowns is a crime and that's why we're here today."
Blagojevich defense attorney, Aaron Goldstein, told jurors his client is innocent because "in the end (prosecutors) found nothing, because there is nothing... time after time you will be left with nothing."
The defense wants jurors to believe everything Blagojevich is accused of doing boils down to all talk and no action. "He wasn't shaking down anyone. He was talking. What you will hear is him talk and talk and talk," Goldstein said during opening statements.
Three men and 15 women make up the 12 jurors and six alternates who will hear the case over the next five weeks and decide if Blagojevich is guilty beyond a reasonable doubt.
Blagojevich's first corruption trial ended in a hung jury on all 24 counts against him, except for one, lying to the FBI. This time around, the prosecutors have streamlined the case and dropped a few charges (wire fraud and racketeering) in an attempt to make it easier for jurors to follow the case.