Blago Plays it by the Book on the Witness Stand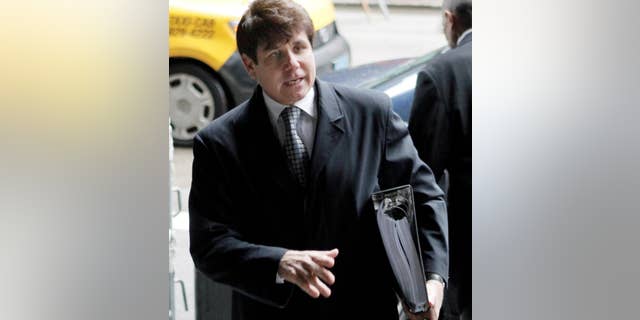 NEWYou can now listen to Fox News articles!
Friday's ad libs by Rod Blagojevich were, arguably, limited to one.
On his way out of the Dirksen Federal Building in Chicago, the former Illinois governor paused long enough to autograph...an orange. The piece of fruit was handed back to its owner, and Blagojevich and wife, Patti, were off to their Memorial Day weekend.
On the witness stand, Blagojevich's second day of testimony largely involved reading from big binders. In them were transcripts of wiretapped phone calls recorded by the FBI during its corruption investigation. The probe lead to the 20 criminal counts Blagojevich now faces.
The recordings are famous. After all, who could forget Blagojevich describing in a 2008 call that Barack Obama's soon-to-be vacated U.S. Senate seat was "(bleeping) golden?"
The Blagojevich team could have played the actual recordings today to help explain their case. But instead, defense attorneys asked Blagojevich to read the call transcripts from the binders.
The bulk of the shortened day, typical for a Friday, involved the alleged bribery over a piece of legislation benefiting the Illinois horse-racing industry. The purpose of the so-called Recapture Bill, explained Blagojevich, "simply put, its revenue sharing for the gaming industry."
Casinos operating in Illinois would give a percentage of their revenue to horse-breeders and race tracks hurt because casinos took away their business.
Federal prosecutors contend Blagojevich was stalling on signing the bill into law until John Johnston, who's family owned a horse race track, come up with a promised $100,000 donation to Blagojevich's campaign fund.
Blagojevich insisted he was merely being deliberative.
"My intension was to follow the law and be very careful we didn't cross any lines," testified Blagojevich, "one was not for the other."
To underscore his point, Blagojevich read verbatim from the binders. The wiretapped conversations selected involved Blagojevich talking to his staff about how John Johnston "is good for (the $100,000 donation)."
There was one phone conversation actually played. It was between Blagojevich and his legal counsel, Bill Quinlan, talking about Chris Kelly's interest in the Recapture Bill. Kelly was a top Blagojevich fundraiser. He was also facing charges for tax fraud, eventually pleading guilty.
Blagojevich testified that he later wondered after the call if Kelly was urging the signing of the bill as part of an elaborate scheme to curry favor with Johnston, who along with former Cleveland Browns quarterback Bernie Kosar, would together pressure Florida Gov. Jeb Bush into coaxing a pardon out of President George W. Bush.
There is no way to corroborate Blagojevich's theory. Kelly committed suicide in September 2009, almost three months before Blagojevich was arrested.
On the stand, Blagojevich displayed more verbal discipline. After regular instructions Thursday by Judge James Zagel to simply answer the questions asked, Blagojevich got only one such admonishment today.
There is much more explaining (and perhaps binder reading) ahead for Blagojevich. He has not gotten around to that "(bleeping) golden" comment. Defense attorneys say that will come last, likely towards the end of next week.