Billionaires Buffett, Adelson battle over Nevada ballot measure on electricity supply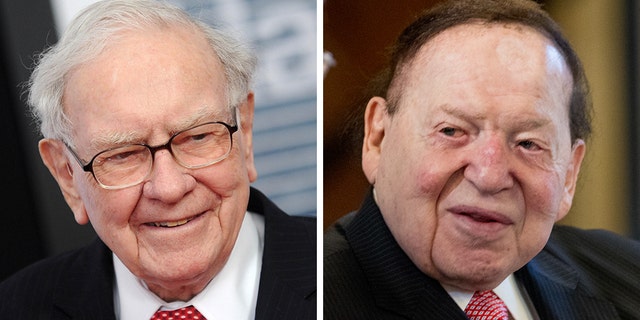 NEWYou can now listen to Fox News articles!
A ballot measure in Nevada reportedly has drawn in more spending than the state's Senate race and has pitted two billionaires against each other in a battle for the fate of the state's electricity supply.
On one side, there is Warren Buffett whose Berkshire Hathaway owns NV Energy, the government-regulated monopoly that is Nevada's largest utility. On the other side is casino magnate Sheldon Adelson; he and his company Las Vegas Sands have funneled more than $20 million into a campaign that would allow Nevadans to choose their own electricity supplier.
While the amendment, called the Energy Choice Initiative, has the financial support of Adelson, allies of former Senate Democratic leader Harry Reid, and the data-storage company Switch, which has contributed $12 million of its own, it still falls short in the fundraising department when going up against Buffett, Politico reported. NV Energy has contributed about twice as much money into its efforts to kill the amendment which opponents are labeling as a "new, unknown system" and a "risky experiment" harkening back to the Western energy crisis of the early 2000s.
"It's clear that Buffett has decided to loosen the purse strings," Nevada political expert Jon Ralston told Politico. "They've way outspent [proponents] and they're going to win."
Both sides essentially have promised the same things: lower energy prices and more opportunities for renewable power. Still, proponents of the initiative say NV Energy is using scare tactics by dredging up memories of the energy crisis in the 2000s.
Former Federal Energy Regulatory Commission Chairman Jon Wellinghoff, who has been working on the pro-amendment campaign, called NV Energy's claims "total garbage" but admitted that they were having some level of success.
"The bear is fighting for its life, basically," Wellinghoff told Politico, adding that the $62 million in donations from NV Energy was "probably the tip of the iceberg."
Recent polling on the measure, which will appear on the November ballot as Question 3, shows that there is little support for the initiative. A Reno Gazette-Journal and Suffolk University poll found that only 32 percent of likely voters supported the measure compared with 51 percent opposed to it.
CLICK FOR COMPLETE FOX NEWS MIDTERMS COVERAGE
This stands in stark contrast to 2016 when the measure won 72 percent of the vote. Nevada law requires ballot measures to pass twice to amend the state's constitution.
Analysts say the drop might have less to do with a change of heart among Nevadans and more with the fact that Buffett's NV Energy was able to mount an opposition campaign early on.
CAGE-FREE EGGS ON THE BALLOT FOR CALIFORNIANS
Adelson and the pro-amendment movement "certainly should not have let the other side have the field for so long and outspend them the way they did," Ralston said.