Bill de Blasio Makes Trip To Puerto Rico; Talks Red Sox With Governor García Padilla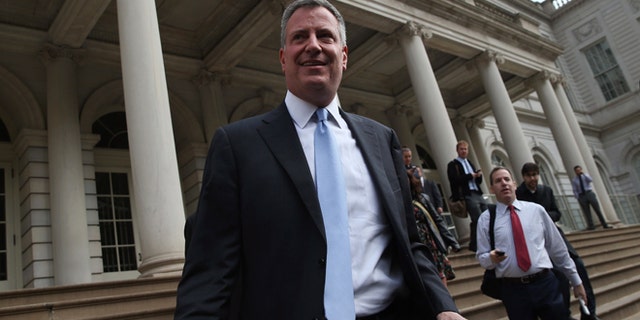 On his second day after winning New York City's mayoral race, Bill de Blasio mixed business with pleasure as he jetted off for a visit to Puerto Rico.
New York City's mayor-elect traveled to the U.S. territory to attend an annual conference of Hispanic New York state and city legislators, Somos El Futuro, and tacked on a mini-vacation with his wife, Chirlane McCray.
"I'm going to have a really good time in Puerto Rico," a smiling and casually dress de Blasio told a crush of reporters at the airport before his flight.
Coincidentally, de Blasio was seated next to his former mayoral race rival and long-shot candidate, Adolfo Carrión, who is of Puerto Rican descent. According to reports, the former adversaries chatted amicably on the way down to the island.
While de Blasio's main topic of discussion while at the conference will be his upcoming tenure in the mayor's office, he said he plans to enjoy himself and take a break after his long campaign season.
Calling the island an "enchanted place," Puerto Rico holds a special place in de Blasio's heart – it is the first place that he and wife visited as a couple back in 1992.
"We went to, of course, San Juan, Luquillo, Ponce, Utuado," he said, according to the New York Times, before urging the press corps do your research and go to [the mountain town of] Utuado on this trip."
The de Blasio's also met with Puerto Rican Gov. Alejandro García Padilla of Puerto Rico and his wife, Wilma Pastrana, where the couples discussed a contentious issue that arose during the campaign: the fact that New York's new mayor is a fan of the Boston Red Sox.
Pastrana said she has been a fan of the Boston team since attending college at Boston University, while García Padilla said he has been a lifelong fan of the Red Sox because his grandfather resented the Yankees for not signing pioneering Puerto Rican ballplayer Vic Power.
"He is maybe the only New Yorker that is a Red Sox fan," García Padilla said of de Blasio, "and I'm the only Puerto Rican who is a Red Sox fan."
Follow us on twitter.com/foxnewslatino
Like us at facebook.com/foxnewslatino