Bikini-clad balloon of anti-Trump London Mayor Sadiq Khan takes flight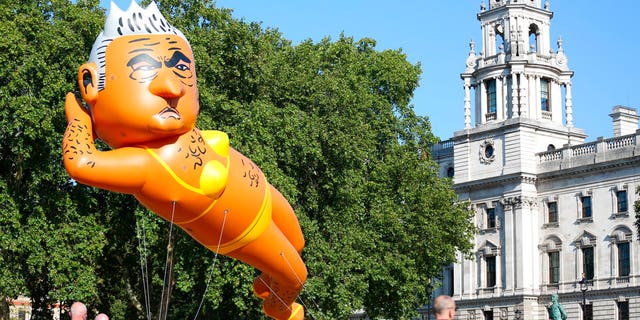 Londoners protesting Sadiq Khan launched a balloon over Parliament Square, more than a month after the anti-Trump mayor gave the OK to a "Trump baby" balloon during the president's visit to the U.K. in July.
A small group of supporters, some wearing T-shirts saying "Make London safe again," cheered as the balloon took the sky. Organizers had raised approximately $75,000 to make the balloon.
The move comes amid criticism of Khan's policies on crime in London, where crimes such as homicides, knife crime and acid attacks have been on the rise. Critics have blamed Khan's policies, while Khan has placed the blame on cuts in police funding by Conservative Prime Minister Theresa May.
Organizer Yanny Bruere said Saturday's protest was set up "in retaliation" for the Trump blimp.
"I think a certain amount of respect should be afforded to the leader of the free world and the greatest ally the U.K. has," he said, according to The Associated Press.
The bikini is a reference to a controversy over an advertisement that Khan had banned. The ad featured a woman in a bikini, and asked the reader: "Are you beach body ready?"
ANTI-TRUMP LONDON MAYOR SADIQ KHAN UNDER FIRE FOR 'PATHETIC' RESPONSE TO CRIME SURGE
The advertisement appeared on transportation systems, but Khan banned the ad in 2016 because it promoted "unhealthy or unrealistic body images," according to the BBC.
Trump has blasted Khan on a number of occasions.
"You have a mayor who has done a terrible job in London. He has done a terrible job," Trump said in an interview with The Sun in July. "I think he has done a bad job on crime, if you look, all of the horrible things going on there, with all of the crime that is being brought in."

The Associated Press contributed to this report.