Biden's Mexico Trip To Focus On Economy, May Touch On NSA Spying And DEA Killer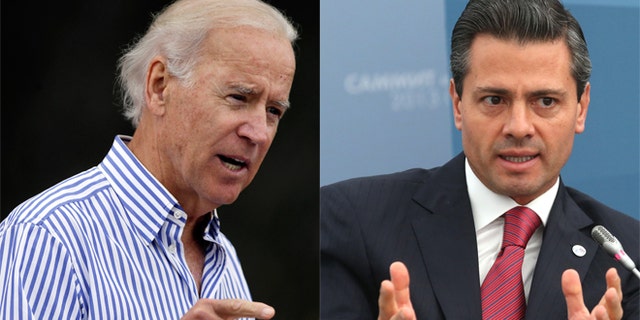 NEWYou can now listen to Fox News articles!
While economic issues between the countries will be the centerpiece of the public meeting Friday between Vice President Joe Biden and Mexican leader Enrique Peña Nieto, analysts say that backroom discussion could shift to security issues, the release in Mexico of a convicted DEA killer and allegations of National Security Agency spying.
Biden and Peña Nieto are expected to meet at the Mexican president's residence Friday afternoon, where they will give statement s following their meeting. Both the White House and Mexico have touted this meeting as a way to strengthen the economic relationship between the neighboring nations, especially in terms of trade and investment.
"Mexico's economic situation has strengthened and it wants to be more of a player on the world stage," Larry Birns, the director of the Council of Hemispheric Affairs told Fox News Latino.
While these topics will come up in the meeting, it won't have any effect on U.S.-Mexican relations because the relationship is too big to fail.
Mexico is the United States' third largest trading partner, with a total combined trade of more than $500 billion.
Peña Nieto has tried to shift the two nations' joint focus on security toward boosting the economic ties that bind the U.S. and Mexico. Former Mexican President Felipe Calderón focused his dealings with the U.S. primarily on combating the drug and illegal weapons trade.
"Peña Nieto wants to refocus and refine the bilateral relationship from security to an economic dialogue," said Christopher Wilson, an associate at the Mexico Institute at the Woodrow Wilson International Center for Scholars. "However it is hard to keep the public attention away from security."
One security concern that has raised eyebrows in the U.S. was the surprising release last month of Mexican drug lord Rafael Caro Quintero, who had spent the last 28 years in prison for the killing a U.S. Drug Enforcement Agency agent.
A Mexican court threw out Caro Quintero's 40-year sentence for the murder of Enrique Camarena, a former DEA agent who was working undercover in Mexico when he was abducted and tortured, after ruling Caro Quintero was improperly tried in a federal court for a crime that should have been treated as a state offense.
The U.S. has called for the re-arrest and extradition of Caro Quintero after saying it was "deeply concerned" about his release and the possibility that another man connected to the Camarena killing could also be set free.
"The U.S. is still very involved in the Mexican drug problem," Wilson said. "It's out of bounds for criminals to target any U.S. government official. That's a red line they can't cross."
Concerns have also been raised that with the election Peña Nieto, a member of the Institutional Revolutionary Party (PRI) that ruled Mexico for 70 years until 2000, there will be a return to the widespread corruption that kept violence down but ran rampant in Mexico for decades.
Along with the concerns over the release of Caro Quintero, the NSA spying scandal will loom over Friday's talks.
Relations between the U.S. and both Mexico and Brazil have soured since Brazilian media conglomerate Globo TV revealed that the NSA program was monitoring the Mexican president before he was elected in July 2012. The news agency also reported that the NSA monitored communications between Brazilian President Dilma Rousseff and her top aides.
While Peña Nieto demanded the United States investigate the allegations and said that "if proved ... it is an act outside the law," most analysts don't expect affairs between the two countries to fall to the nadir that U.S.-Brazilian relations stand now. Brazil's Rousseff announced earlier this week that she was putting off a state visit to the U.S. next month to protest an American spy program that has aggressively targeted her nation's government and private citizens alike.
"This is not like Brazil," Wilson said. "While these topics will come up in the meeting, it won't have any effect on U.S.-Mexican relations because the relationship is too big to fail."