Bidens Bring A Sense of Home to USS Reagan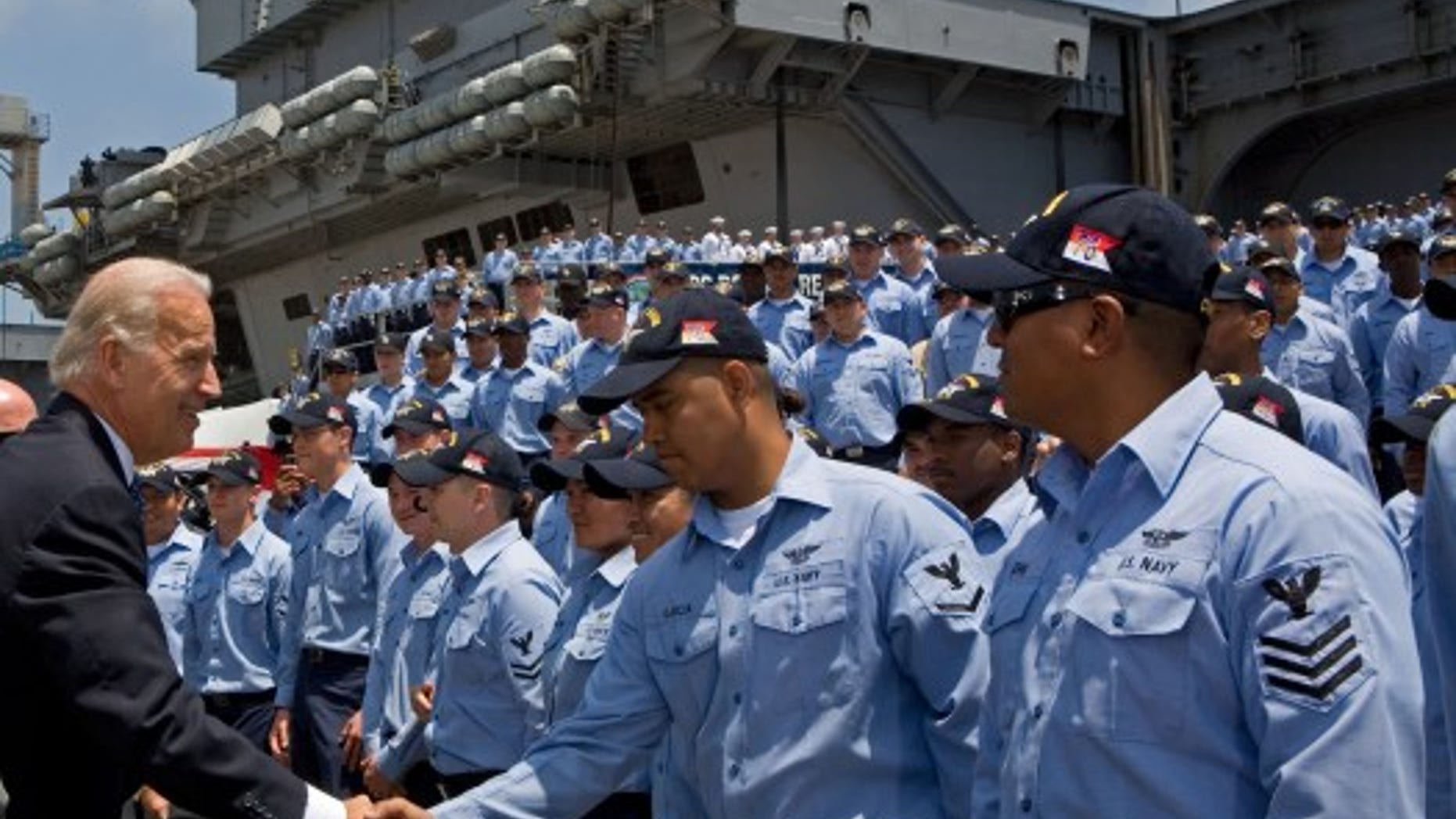 Knowing all too well the anguish that military families can endure, the "Second Family" of the United States evoked a personal passion in their greetings Thursday to the men and women of the USS Ronald Reagan.
As the crew stood at attention, Jill Biden's voice echoed across the deck of the ship, "I am amazed at your courage, your dignity, and your sense of patriotism and commitment to our country. I am proud to be here today as the 'second lady'. And I am also proud to be here as a mother of a soldier serving in Iraq. Like your families, I honor his service, but I miss him every day."
(Vice President Joe Biden shakes hands with sailors in front of the USS Ronald Reagan on Coronado Island,
California, Thursday, May 14, 2009.  Official White House Photo by David Lienemann)
The Bidens' son, Beau, is currently serving a year-long tour in Iraq with the National Guard.
The couple's visit to the ship, currently docked at Naval Base Coronado in San Diego, was a send-off for the crew before they embark on yet another mission at the end of the month; this time to the western Pacific and Indian Oceans.
Already, the Reagan crew has undertaken a wide range of harrowing duties; from air operations over Afghanistan to humanitarian assistance after a typhoon in the Philippines. The ship was even called to duty for a counter-piracy operation off the Horn of Africa.
But today, the Vice President reminded the crew that as they undertake their most solemn of obligations, so does the US government. Biden touted a part of the stimulus bill that sets aside over half a billion dollars to extend a program that helps both civilian and military Defense Department employees when they sell their homes at a loss.
The program gives priority access to families of those killed while deployed and wounded personnel who need to move for medical reasons or are suddenly ordered to relocate.
"In the middle of a credit and housing crisis, we recognize that military families cannot generally choose, to put it mildly, when they move."
Then the Vice President repeated a refrain he's delivered before, "[W]e have only one sacred obligation as nation-- an obligation that exceeds all others. And that's to care for those we send and care for those who come home.
If we only have ten dollars to spend as nation, and it takes eight to meet the needs of the families who have served, then we will spend that eight before we'll spend a penny on anything else."