Biden pays tribute to son, says he's unsure he can commit to presidential campaign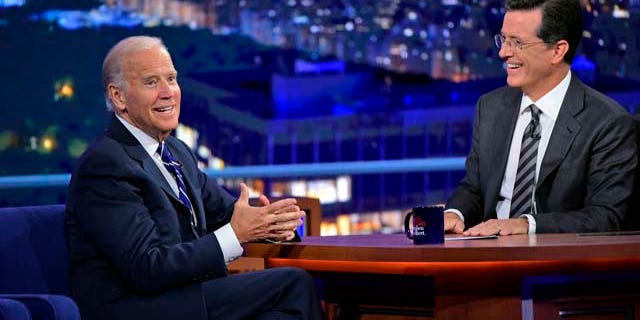 NEWYou can now listen to Fox News articles!
Vice President Joe Biden said late Thursday that he would be lying if he claimed to know that he had the emotional wherewithal to make a late entry into the 2016 Democratic presidential race.
"Nobody has a right, in my view, to seek that office unless they are willing to give it 110 percent of who they are," Biden told Stephen Colbert in the interview on CBS' "Late Show". He later said that "I'd be lying if I said I knew I was there."
Biden's statement to Colbert marked the strongest indication yet that he may be leaning against running for the Democratic nomination. The possibility that Biden would launch a third presidential campaign has turned into a game of "Will he or won't he?" made more complex by the death of his eldest son, Beau, of brain cancer this past May at age 46. Biden's aides have said any announcement would likely slip into late September or early October, or possibly even later.
Since his son's death, Biden has frequently peppered his speeches with references to Beau and the impressive resume he developed in his short life. On Thursday, Biden told Colbert of the last conversation he had with his son at a military hospital.
"He said, `Dad, sit down, I want to talk to you.' He said, `Dad, I know how much you love me,"' Biden recalled. "Promise me you'll be all right, because no matter what happens, I'm going to be all right."
Biden later told a story about a recent visit to a Colorado military base during which one well-wisher called out the name of his late son.
"It was going great," Biden said. "All of a sudden, a guy in the back yells, 'Major Beau Biden. Bronze Star, Sir. Served with him in Iraq.' All of a sudden, I lost it. How could you -- that's not -- I shouldn't be saying this: You can't do that."
If Biden seemed unusually willing to bare his soul, it may have been due to his host. Colbert, the longtime Comedy Central star who this week took over David Letterman's former role, lost his father and two brothers in a plane crash as a child. Biden invoked Colbert's losses to make a point about how "there are so many other people going through this."
"I feel self-conscious talking about it," Biden said, looking down solemnly and occasionally wringing his hands.
Decades ago, at the start of his political career, Biden lost his wife and infant daughter in a car crash that also injured Beau and his other son, Hunter. Asked by Colbert how he perseveres, Biden cited his Catholic faith and his determination to simply keep moving.
"I feel like I was letting down Beau, letting down my parents, letting down my family, if I didn't just get up," Biden said. "You've just got to get up."
For his part, Colbert was unabashed in his support for a Biden campaign, praising him effusively for showing Americans "the real Joe Biden" and adding, "I think we'd all be very happy if you did run." Biden attributed his current star status in the Democratic Party to the fact that he never felt compelled to modulate what he says.
"If you can't state why you want the job, then there's a lot more lucrative opportunities other places," he said.
Biden's public meditation on the 2016 race capped a hectic day of speeches and events in New York, where he focused on two issues that have been central to his political career for decades: workers' rights and violence against women. He spent part of the day at a fundraiser for Senate Democrats.
The intense interest stirred up by the prospect of Biden running campaign has essentially frozen the Democratic primary campaign, as Hillary Clinton and the other candidates wait to see whether they'll face another formidable contender. Recent national polls have suggested Biden could be competitive against the Republican candidates, and that he's more popular within his own party than Clinton in key primary states.
The Associated Press contributed to this report.