Bernie Sanders' wife's land deal still under FBI probe; witness recently questioned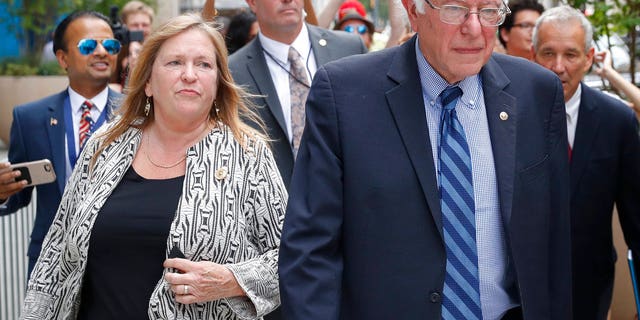 A federal investigation launched in 2016 into possible bank fraud by Jane Sanders, wife of U.S. Sen. Bernie Sanders, is still underway -- with "a potential" grand jury review possible.
The probe could thwart Sanders' 2020 presidential ambitions -- as well as the Vermont political plans of Jane Sanders' daughter, Carina Driscoll.
Individuals questioned by the FBI confirmed to Fox News that the investigation was still open, with FBI agents interviewing at least one witness within the last six weeks.
Jane Sanders is under investigation following a land deal she clinched when she was president of Burlington College in Vermont in 2010.
In order to expand the college, Sanders sought to obtain a tract of land from a Roman Catholic parish. She secured a $6.7 million loan from a bank and a $3.6 million loan from the parish from which she planned to purchase the property.
But she resigned in 2011 amid allegations that she purposely inflated and made up the amount of money donors have pledged to the school and provided incorrect information to a bank to get the loan. Multiple individuals, who were listed as college donors, have since come forward denying the commitments.
Questioned recently
Former Burlington College Board Chairman Yves Bradley told Fox News that the investigation was still underway. He said he was visited by FBI agents in the last six weeks and was questioned about Sanders' involvement in the alleged bank fraud.
Attorney Rich Cassidy, representing both Bernie and Jane Sanders, approached Bradley regarding the investigation, but by the advice of his counsel decided not to engage. Cassidy did not respond to Fox News' multiple requests for an interview.
Previous reports stated that the investigation accelerated this past summer when multiple people were questioned and investigators seized records from Burlington College.
The recent questioning of Bradley signals the investigation is far from over.
The probe is being handled by the U.S. Justice Department and will proceed at the discretion of Christina E. Nolan, the U.S. Attorney of Vermont, who was sworn into office last week after being appointed by President Donald Trump in September and confirmed by the Senate last month.
Coralee Holm, the former Burlington College dean of operations, confirmed as well that the probe "has not been closed" and that it has "no specific deadline" for completion. She was among the individuals questioned in the summer.
"I have not talked with anyone since then, other than checking with the FBI agents," she said over the phone.
To the question whether the investigation could lead to an indictment, she said the FBI agents told her it was "a potential" – although not "an absolute" – that the case will be brought in front of a grand jury.
"If there is going to be something that happened it would be the grand jury … it would be brought in front of the grand jury … they already told me to be … that was a potential but they did tell me that wasn't an absolute," Holm said.
Change of plans?
The ongoing probe and the potential for a grand jury review might be enough to impede Bernie Sanders' and Driscoll's political plans.
Politico reported last month that Sanders was angling toward a more mainstream candidacy heading into the 2020 presidential election and reaching out to key Democrats to solidify his support among the party machine.
Driscoll, the stepdaughter of the senator, announced Monday her plans to run for her stepfather's first political job: mayor of Burlington, Vt.
A spokesperson for Bernie Sanders did not respond to Fox News' request for a comment. Driscoll declined to comment.