Bernanke Hits Back at Critics of Bond Plan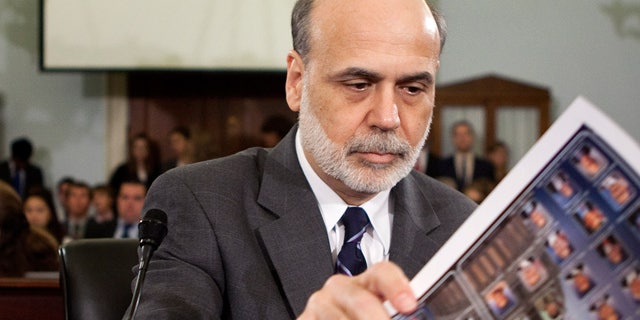 WASHINGTON -- Federal Reserve Chairman Ben Bernanke is seeking to defuse criticism of the Fed's $600 billion bond-purchase plan by arguing that it's needed to boost the economy and reduce unemployment. But he warns the Fed's program can't succeed on its own.
In his first speech since the Fed announced the program Nov. 3, Bernanke makes his most forceful case to date that Congress also must provide more stimulus aid.
Without more stimulus, high unemployment could persist for years, he said. But in making that argument, Bernanke risks heightening complaints that he's plunging the Fed into partisan politics.
He also said the global economy could falter if struggling countries abroad don't receive sufficient support.
Bernanke made the remarks in a speech prepared for delivery to a banking conference Friday in Frankfurt, Germany. A copy of his speech was made available Thursday night.
The Fed's Treasury bond-buying program is intended to invigorate the economy in part by lowering interest rates, lifting stock prices and encouraging more spending. Lower interest rates on loans would prompt companies to borrow and expand.
And higher stock prices would boost the wealth and confidence of individuals and businesses, Bernanke has suggested. The additional spending would lift incomes, profits and growth.
But the Fed's program has triggered a barrage of criticism both within the United States and abroad.
Critics at home, including Republican leaders in Congress and some Fed officials, say they doubt the program will help the economy. They also worry it could do harm -- unleashing inflation and leading to speculative buying on Wall Street.
And at a summit of world leaders in South Korea last week, China, Germany, Brazil and other countries complained that the Fed's plan would give U.S. exporters a competitive price edge by flooding world markets with dollars. A weaker dollar makes U.S. goods more attractive to foreign buyers.
Emerging economies like Thailand and Indonesia also fear that falling Treasury yields will send money flooding their way in search of higher returns. Such emerging markets could be left vulnerable to a crash if investors later decide to pull out and move their money elsewhere.
Because countries are recovering from the severe global recession at different speeds, tensions among nations have risen, making it harder to find global solutions to global problems, Bernanke said. So-called emerging countries like China, Brazil and India are growing at much faster rates than "advanced" economies like the United States, Japan and Britain.
"Insufficiently supportive policies" in the United States and other advanced economies could "undermine the recovery not only in those economies but for the world as a whole," Bernanke warned.
By contrast, China and other emerging economies face the challenge of keeping growth robust, without igniting inflation, he said. By keeping their currencies artificially weak, China and other emerging economies are causing problems for themselves and for the stability of the world economy, Bernanke said.
Bernanke argued that the Fed's Treasury bond purchases are needed to promote faster job creation and reduce the risk that very low inflation could turn into deflation. Deflation is a prolonged and destabilizing drop in prices of goods and services, wages and the values of assets like stocks or homes.
Even so, the Fed's program by itself can't fix all the economy's problems, Bernanke said.
"There are limits to what can be achieved by the central bank alone," he said, tamping down expectations.
"A fiscal program that combines near-term measures to enhance growth with strong confidence-inducing steps to reduce longer-term structural (budget) deficits would be an important complement to the policies of the Federal Reserve," he said.
Bernanke has previously warned that the economy is too fragile for the Congress to slash spending or boost taxes, even as he has made the case that lawmakers and the White House must craft a credible plan to reduce trillion-dollar plus budget deficits over the long term.
But the Fed chief amplified that warning. He is doing so as Republicans in Congress -- coming off big wins in the midterm elections -- are using their clout to push for less government spending and more fiscal discipline.
Republicans are upset with Bernanke because they think the Fed is overstepping its bounds with the bond-buying program. They argue that the Fed is printing money to pay for the government's massive debt.
Rep. Mike Pence, R-Ind., and Sen. Bob Corker, R-Tenn., want the Fed's mission to be revamped.
They want the Fed to focus solely on keeping inflation in check. It now has a "dual mandate" from Congress: to keep both inflation and unemployment low.
Put on the defensive, Bernanke felt compelled this week to meet privately with lawmakers on the Senate Banking Committee to defend the Fed's program. A stream of Bernanke's colleagues have also been out making public appearances to back the Fed's action in recent days. Narayana Kocherlakota, president of the Federal Reserve Bank of Minneapolis, and Sandra Pianalto, president of the Cleveland Fed, were on the circuit Thursday.
Bernanke warned the economic risks are high if Congress doesn't work alongside the Fed to stimulate the economy.
"On its current economic trajectory, the United States runs the risk of seeing millions of workers unemployed or underemployed for many years," Bernanke said. "As a society, we should find that outcome unacceptable."