Bachmann / Pawlenty Spat Foreshadows Iowa Straw Poll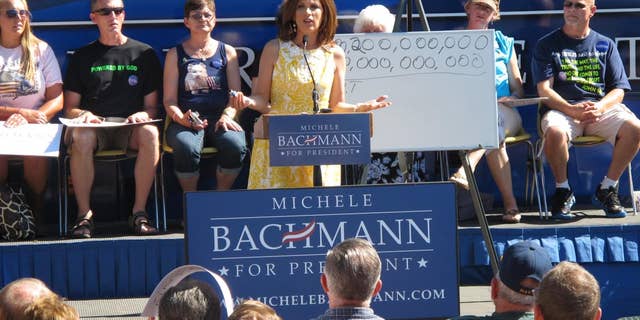 NEWYou can now listen to Fox News articles!
Tim Pawlenty claims there's one key political distinction between himself and Michelle Bachmann.
"There's a big difference between talking and getting stuff done," Pawlenty said. "I get stuff done."
It's the latest chapter in the rivalry of the two Minnesota candidates for the Republican presidential nomination which boiled over Sunday.
With Pawlenty having spent almost two weeks saying Bachmann has no congressional accomplishments to speak of, Bachmann had enough.
In a Sunday statement Bachmann fired back.
"I have fought against irresponsible spending while Governor Pawlenty was leaving a multi-billion dollar budget mess in Minnesota," Bachmann's statement read.
This back-and-forth comes with Pawlenty still trailing Bachmann in most polls.
For Bachmann, the verbal sparring seems to come with at least some risk. It will likely draw even more attention to the Iowa Straw Poll in less than three weeks. And Pawlenty seems to have the advantage of a larger, deeper Iowa operation.
The Ames Straw Poll ballot was finalized over the weekend with nine names appearing on it. But two big names were missing: Sarah Palin, a Fox News contributor, and Texas Governor Rick Perry aren't listed, largely because neither has announced nor campaigned in Iowa. But they may get straw poll votes anyway.
"Any Iowan who wants to support someone who has not declared for President will have that for first time with a write-in," Iowa GOP Chairman Matt Strawn told Fox News.
Rival campaigns concede Ron Paul is a real threat to win the Straw Poll and the Texas congressman likes his chances. "I wish I could say that I'm the front-runner and nobody is ahead of me and it's a shoe-in, but the truth is we can do it and can do very, very well and hopefully come in, first," Paul said.