Axelrod Asks for Advice... On Twitter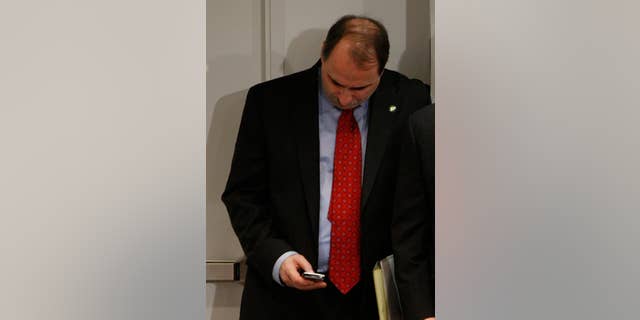 NEWYou can now listen to Fox News articles!
Until just a few days ago, David Axelrod had the ear of the most powerful man in the world. Now, he'll listen to anyone with a twitter account. "Just walked out of the @whitehouse & into a new chapter," reads the first half of his first tweet to his 3,293+ "followers." "Gonna take time off so don't expect many updates but please reply w/#twitter advice."
Maybe he is serious about wanting wisdom in 140 characters or less from total strangers, because the first person he replied to with his "Twitter for BlackBerry" app is named Daphne D., who claims to be a life coach and holistic healer. "You will be missed, but I'm sure your town & family will be so happy to have you back," she wrote to @davidaxelrod.
His response to Daphne D. made clear he is still getting used to the social networking website. First, he fired off a blank tweet. One minute later, though, he showed her abbreviated thanks. "tnx, Daphne. They've even arranged a Welcome Home blizzard for me!"
It is interesting to note that Axelrod joined Twitter after he left an administration that has its own New Media Director, Macon Phillips. @macon44 is one of a handful of "Official WH twitter accounts," Axelrod is following. Others include @pfeiffer44, the online identity of White House Communications Director; @PressSec, representing outgoing White House Press Secretary Robert Gibbs; and of course @BarackObama, his old boss.
The Chicago native will also be receiving status updates from all the Windy City's major sports teams: the Bulls, the Blackhawks, the Bears, and, very diplomatically, both the Cubs and the White Sox.
In case Axelrod doesn't have time to pick up his hometown newspaper while he's working on Obama's 2012 re-election campaign, he can just check his twitter feed, and read headlines from @suntimes. His will also be kept in the loop about anything NBC's Chuck Todd and ABC's Jake Tapper have to say. Tapper and Todd attended a private going away party for Axelrod on Saturday night here in D.C. That means @jaketapper is likely in the know when he confirms the identity of the new high-profile tweeter, writing, "yes thats the real @davidaxelrod."