Attorney General Jeff Sessions: What to know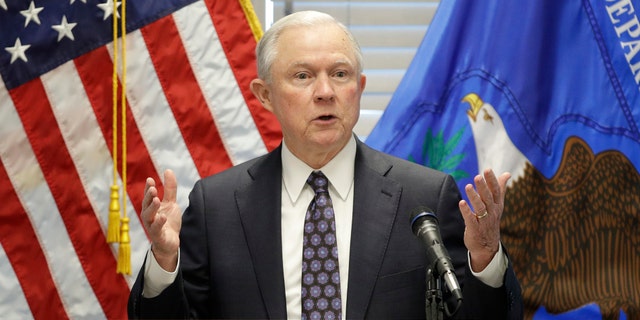 Following an at times contentious relationship with President Trump, Attorney General Jeff Sessions resigned Wednesday.
"At your request, I am submitting my resignation," Sessions wrote in a letter to Trump.
Sessions' departure has been rumored on Capitol Hill for some time, as the president has signaled changes to his administration following midterm elections. At one time, Sessions was one of Trump's most loyal and trusted advisers before infuriating the president over his recusal from the Russia investigation.
Sessions has been involved in politics for decades. In light of his resignation, here's what to know about him.
What do we know about Sessions' upbringing and education?
Sessions is an Alabama native - he was born in Selma and raised in Hybart, according to his Department of Justice (DOJ) bio. He graduated from Huntingdon College in 1969, and went to the University of Alabama for law school, graduating in 1973. He was also in the U.S. Army Reserve from 1973 to 1986, reaching the rank of Captain.
What about Sessions' political career?
From 1975 to 1977, Sessions was an Assistant United States Attorney for the Southern District of Alabama, his DOJ bio said. He later served as United States Attorney for the Southern District of Alabama from 1981 to 1993.
In 1986, the Senate Judiciary Committee opposed Sessions' federal judgeship nomination. Sessions had been accused of calling a black attorney "boy" and describing the National Association for the Advancement of Colored People (NAACP) and the American Civil Liberties Union (ACLU) as un-American when he was a federal prosecutor.
"This caricature of me from 1986 was not correct," Sessions said in January. "I did not harbor the kind of animosities and race-based determination ideas that I was accused of. I did not."
TRUMP LEAVES SESSIONS DANGLING
Sessions was the Alabama Attorney General, before he served in the U.S. Senate from 1997 to February 2017. During the 2016 presidential campaign, Sessions was the first senator to endorse then-candidate Trump.
Trump nominated Sessions to serve as attorney general in November. Though debate over his nomination was heated, Sessions was confirmed in February.
Sessions recused himself in March from the Russia probe, after it was reported that he had spoken twice with Russian Ambassador Sergey Kislyak in 2016. In his Senate confirmation hearing, Sessions said that he "did not have communications with the Russians."
Sessions testified before the Senate Intelligence Committee in June. "I have never met with or had any conversations with any Russians or any foreign officials concerning any type of interference with any campaign or election," he said at the time. "I have no knowledge of any such conversations by anyone connected to the Trump campaign."
What do we know about his family?
Sessions is a father and grandfather. He and wife Mary Blackshear Sessions are parents to Mary Abigail Reinhardt, Ruth Sessions Walk, and Sam, according to the DOJ bio. The couple also has ten grandchildren - seven granddaughters and three grandsons.
Fox News' Alex Pappas and The Associated Press contributed to this report.