At memorial to wounded vets, Obama says America must strive to keep others out of harm's way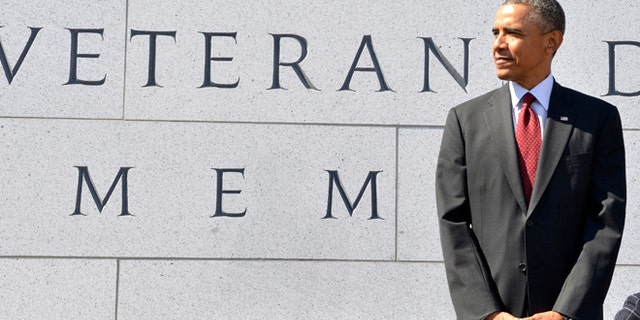 President Obama paid tribute Sunday to disabled U.S. veterans, acknowledging that the country has at times failed to repay their service and vowing to never lead them into pointless battle.
"For more than two centuries, Americans have left everything they have known and loved ... to win our independence," he said. "As a nation, we have not always fulfilled our obligations to those who served in our name. This is a painful truth. And few have known this better than our veterans wounded in war."
Obama spoke at the opening ceremony for the American Veterans Disabled for Life Memorial, at the base of Capitol Hill, in Washington, D.C.
"Maybe it was there on the battlefield, as the bullets and shrapnel rained down around you. Maybe it was as you lay there, the medics tending to your wounds," Obama told those in attendance, including many veterans, some of whom were in wheelchairs. "Whatever your story, it was the moment that binds each of you forever -- that moment of realization that life would not be the same. Your foot, your hand, your arm, your leg … your peace of mind. A part of you was gone."
Though the president made clear that America's sometimes unfulfilled obligation to veterans dates back to the Revolutionary War, his comments came just months after revelations about backlogs at Veterans Affairs hospitals that resulted in staffers creating bogus waiting lists to conceal the extent of the delays.
Obama's remarks also came in the aftermath of the wars in Afghanistan and Iraq, and amid concerns that the United States will send combat troops into Iraq and Syria to destroy the Islamic State.
"This memorial is a challenge to all of us, a reminder of the obligations this country is under," Obama said to the estimated crowd of 3,100. "If we are to truly honor these veterans, we must heed the voices that speak to us here. Let's never rush into war, because it is America's sons and daughters who bear the scars of war for the rest of their lives. Let us only send them into harm's way when it's absolutely necessary."
The memorial was organized by philanthropist Lois Pope, former Veterans Affairs Secretary Jesse Brown and Art Wilson, who retired as chief executive and national adjutant of the Disabled American Veterans organization in 2013. The group first started work on creating the granite-and-steel monument in the late 1990s and raised more than $80 million for its construction. It features a star-shaped fountain and ceremonial flame surrounded by a grove of trees.
"With this memorial we commemorate, for the first time, the two battles our disabled veterans have fought -- the battle over there, and the battle here at home -- your battle to recover, which at times can be even harder, and certainly as long," Obama said. "You walk these quiet grounds -- pause by the pictures of these men and women, you look into their eyes, read their words -- and we're somehow able to join them on a journey that speaks to the endurance of the American spirit."
The Associated Press contributed to this report.