Assault at Trump rally raises questions about police response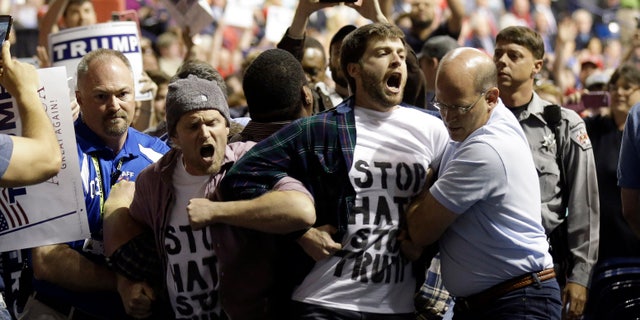 NEWYou can now listen to Fox News articles!
A 78-year-old man caught on video cold-cocking a protester at a Donald Trump rally in North Carolina was arrested Thursday, a day after the incident that happened right in front of police.
John McGraw, 78, was charged with assault and battery and disorderly conduct in the assault, WRAL reported Thursday afternoon. But McGraw was not arrested or detained Wednesday night, leading some to question the police response.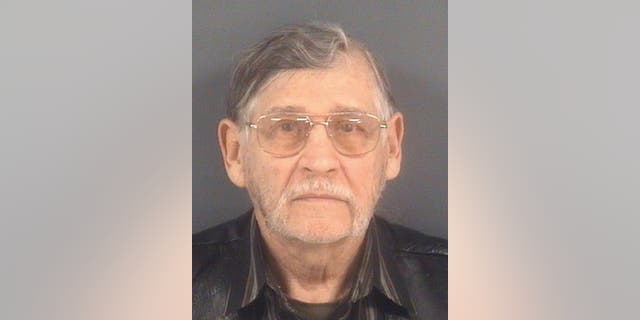 In multiple videos of the incident, Rakeem Jones, 26, is seen walking up the steps of the Fayetteville Crown Coliseum on his way out of the arena. At least two Cumberland County Sheriff's Department officers can be seen walking behind Jones as McGraw, with a pony tail and wearing a dark vest and cowboy hat, moves to the end of one of the aisles and, with his right hand, socks Jones in the face.
Jones is briefly obscured by a crowd of people as he reaches the top of the stairs, but, the next moment, he's seen falling to the ground with a police officer on top of him. Three cops then restrain Jones for several seconds, flip him on to his stomach and then eventually lift him up and finish taking him out of the Coliseum.
"The police jumped on me like I was the one swinging," Jones told The Washington Post. "My eye still hurts. It's just shocking. The shock of it all is starting to set in. It's like this dude really hit me and they let him get away with it. I was basically in police custody and got hit."
But CCSO public information officer Sgt. Sean Swain disputed Jones' version of events.
"I couldn't see if officers took him to the ground, or if he fell to the ground. We haven't talked to the officers at the top of the steps," Swain, who was at the rally, told FoxNews.com on Thursday. "As I looked up, people would miss a step and they'd fall. Until we investigate it, we can't say our officers took him down to the ground. Now, we did pick him off the ground and escort him out."
"[The video] only shows one perspective," he added.
Swain said police have launched an internal investigation into the incident and are also investigating the assault on Jones. Officials were also planning to interview Jones later on Thursday as they worked to identify the man later named as McGraw.

Asked why McGraw wasn't arrested on the spot, Swain said officers didn't see the encounter.
"Both the officers are looking down [in the video] when the camera phone turns away when the guy punches," Swain said. "If we had stayed and tried to reason things out right there it would have gotten very bad."
Swain said no one was arrested at the rally. However, he said Secret Service officials told him there were more protesters in Fayetteville than at any other Trump rally so far.
Cumberland County sheriffs department stands by as man is assaulted after protesting at Trump rally in Fayetteville, NC. SHARE.

Posted by Chris Doyle on Wednesday, March 9, 2016
"As people watch an eight second video and form their conclusions about what goes on, our mission that night – we have 14,000 people at the crown – was to keep everybody safe," Swain said. "Our instruction was to separate people and get them out the door as quickly as possible before it escalates."
Ronnie Rouse, who was with Jones, told The Post that officers asked them to leave the rally almost as soon as Trump took the stage. Jones said someone in his group shouted something, prompting the ejection.
Now, Jones told The Post, the aftermath of the incident is adding insult to injury – in this case a swollen right cheek.
"Boom, he caught me," Jones said. "After I get it, before I could even gain my thoughts, I'm on the ground getting escorted out. Now I'm waking up this morning looking at the news and seeing me getting hit again."
Violent encounters have become a normal part of Trump events as the businessman's campaign for the Republican nomination has progressed.
During a March 4 rally in Warren, Mich., Trump called for a protester to be ejected, according to the Associated Press.
"Try not to hurt him," Trump said. "If you do, I'll defend you in court."
Trump later recalled a fight during a New Hampshire rally, saying: "It was really amazing to watch."
During a November event, a Black Lives Matter activist was pushed and shoved as he was removed.
"Maybe he should have been roughed up," Trump later said on Fox News.
At a February event in Las Vegas Trump said on stage that he'd "like to punch" a protester "in the face, I tell ya."
Breitbart reporter Michelle Fields said Trump's campaign manager, Corey Lewandowski, "grabbed me tightly by the arm and yanked me down" as she tried to ask a question on Tuesday.
Trump's campaign denied Fields' charge in a sharply-worded statement Thursday from spokesperson Hope Hicks.

"The accusation, which has only been made in the media and never addressed directly with the campaign, is entirely false," the statement said.
"We leave to others whether this is part of a larger pattern of exaggerating incidents, but on multiple occasions [Fields] has become part of the news story as opposed to reporting it. Recall she also claimed to have been beaten by a New York City Police officer with a baton," the statement concluded.