Assassination Plots and Conspiracy Theories Abound Ahead of Venezuela Vote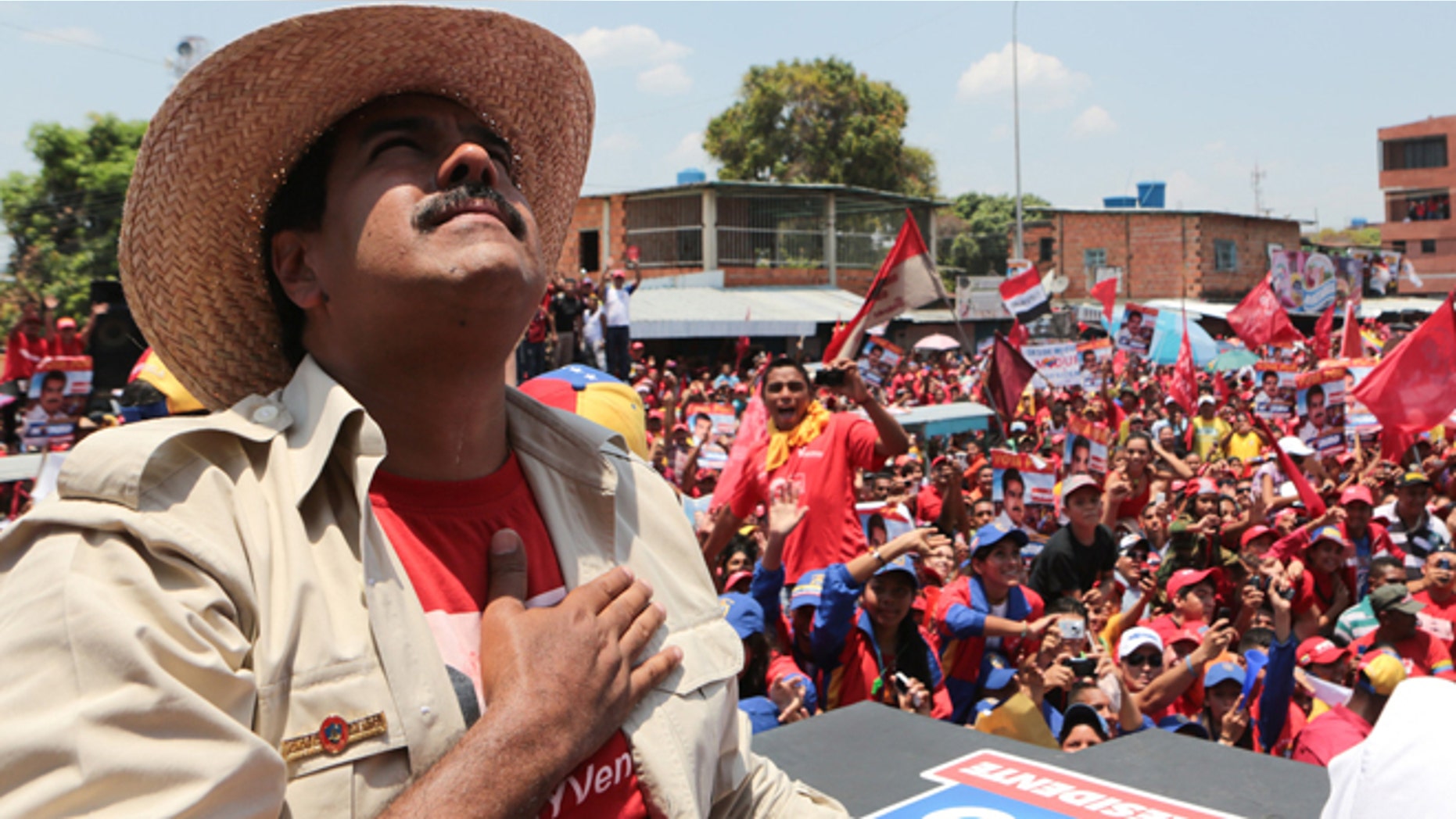 CARACAS, Venezuela – Ahead of the first presidential vote in the post-Hugo Chávez era, set for Sunday, conspiracy theories are abound on assassination plots against current President Nicolás Maduro and opposition candidate Henrique Capriles.
Salvadoran mercenaries are plotting with Venezuela's opposition candidate to assassinate interim president Maduro. But wait, the plot thickens. Central American agents, along with former U.S. diplomats, are also plotting to kill Capriles.
Maduro, who is running as Chávez's hand-picked successor, also says the government has launched an investigation to determine if someone — U.S. agents, he has hinted — inoculated Chávez with the cancer that killed him March 5.
Opposition leaders called the allegation laughable, but government officials insist it's no joke. Such conspiracy theories don't seem all that wild to some Latin Americans who resent decades of U.S. meddling in their affairs. In Venezuela, relations with the U.S. deteriorated after Washington briefly endorsed a coup that toppled Chávez for two days in 2002.
Maduro claims his political opponents have hired mercenaries from El Salvador to assassinate him. He has offered no proof, but during a rally Sunday he accused a former aide to Capriles of being the plot's mastermind.
Capriles called the claim "contradictory and ridiculous." He recalled that less than two weeks ago, Maduro claimed that former U.S. diplomats Otto Reich and Roger Noriega were plotting to kill Capriles with the aide of Central American mercenaries. The U.S. State Department has dismissed the allegations too.
Maria Isabel Puerta, a political science professor at the University of Carabobo, said Maduro is spinning conspiracy theories to distract from pressing domestic problems, especially food shortages and chronic electrical blackouts, and shift the blame to government foes. Along with the plots to assassinate both presidential candidates, Maduro says the Salvadoran mercenaries are plotting to infiltrate the state-run power company and sabotage the country's power grid.
"It insinuates the transfer of responsibilities to the enemy, even though it seems strange," Puerta said.
Maduro's political opponents say the interim president is simply following Chávez's playbook. Throughout his 14-year-old rule, Chávez and his allies frequently warned that government foes were plotting to kill him, topple his government or destabilize the country.
Miguel Perez Pirela, the host of a program on state television, claimed last year that a newspaper crossword puzzle had a hidden call to kill Chávez's older brother, Adan. Intelligent agents went so far as to question the author of the puzzle, which was published in the Ultimas Noticias newspaper, and contained the Spanish word for "assassinate" intersecting with "Adan."
Based on reporting by The Associated Press.
Follow us on twitter.com/foxnewslatino
Like us at facebook.com/foxnewslatino