Assange implies murdered DNC staffer was WikiLeaks' source
NEWYou can now listen to Fox News articles!
WikiLeaks founder Julian Assange implied in an interview that a murdered Democratic National Committee staffer was the source of a trove of damaging emails the rogue website posted just days before the party's convention.
Speaking to Dutch television program Nieuswsuur Tuesday after earlier announcing a $20,000 reward for information leading to the arrest of Seth Rich's killer, Assange said the July 10 murder of Rich in Northwest Washington was an example of the risk leakers undertake.
"Whistle-blowers go to significant efforts to get us material and often very significant risks," Assange said. "As a 27-year-old, works for the DNC, was shot in the back, murdered just a few weeks ago for unknown reasons as he was walking down the street in Washington."
When the interviewer interjected that the murder may have been a robbery, Assange pushed back.
"No," he said. "There's no finding. So… I'm suggesting that our sources take risks."
When pressed as to whether Rich was, in fact, the leaker, Assange stated that the organization does not reveal its sources.
Police have said they believe the motive was robbery, and that there is no evidence Rich's murder was connected to his work. But Rich's father has said the 4 a.m. murder, in which Rich was shot several times from behind, did not appear to be a robbery, as his son's wallet and watch were not taken.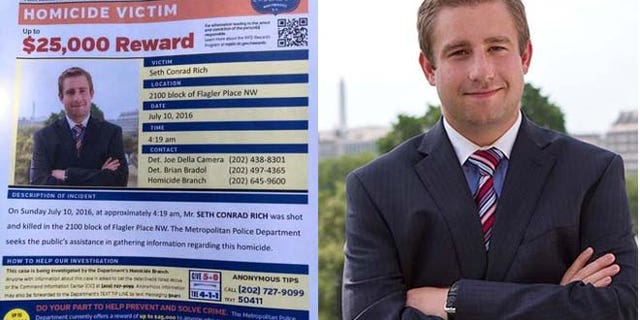 When police found Rich, he was still conscious and breathing. He was transported to a hospital where he later died. No witnesses have come forward and police have no suspects. The WikiLeaks reward adds to a $25,000 reward posted by Washington police.

WikiLeaks' email dump of DNC files, which embarrassed the party and showed possible collusion to block Bernie Sanders from the nomination, occurred 12 days after his death. Rich was the DNC's director of voter expansion.
Washington Police Assistant Chief Peter Newsham said the department appreciates WikiLeaks offering of a reward.
"We're very pleased if anyone is going to assist us with giving reward money," Newsham added.
The 45-year-old Assange is founder and editor-in-chief of WikiLeaks, which touts itself as a nonprofit journalistic organization. WikiLeaks specializes in publishing online leaked documents and classified information gleaned from an international network of secret sources.
The Australian has been subject to extradition to Sweden since 2010, wher he is wanted for questioning in a rape case that his supporters claim is a pretext to muzzle his efforts. He has been holed up in Ecuador's United Kingdom embassy since he was granted asylum there in August 2012.
Assange participated in the interview from inside the embassy.