Army taking second look at case of paralyzed Green Beret facing discharge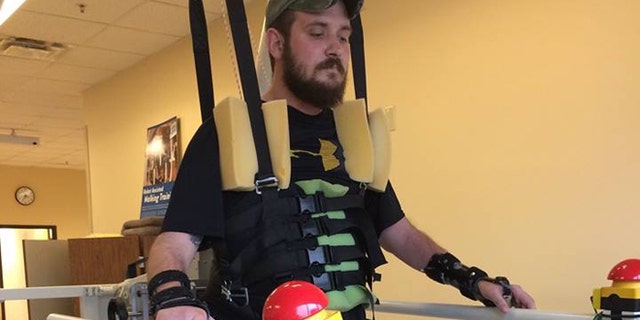 The Army is taking a second look at the case of a Green Beret who was paralyzed in an accident last year and now faces the possibility of a discharge that could jeopardize his medical care, FoxNews.com has learned.
Sgt. 1st Class Timothy Brumit was paralyzed from the chest down after diving headfirst into shallow water in July 2015, attempting to rescue what he thought was a drowning girl. The Army has since determined his decision was reckless and negligent, citing his alcohol and drug use.
But after recent media and congressional attention on the case, the commander of U.S. Army Special Operations Command asked Tuesday for a review of his case. In a memo, Lt. Gen. Kenneth E. Tovo urged U.S. Army Human Resources Command to "reconsider" the determination.
"[T]here are unknown factors that likely contributed to SFC Brumit's momentary lapse in judgment that resulted in his life-long paralysis," he wrote. "Based on the totality of the circumstances, a review of these unknown factors warrants reconsideration."
The Afghanistan and Iraq veteran, who has served eight combat tours, has argued that the Army "failed" him as he struggled with PTSD, traumatic brain injury and substance abuse. After the July 2015 incident, he was found to have a blood alcohol level of 0.1 percent and traces of cocaine in his system.
He doesn't deny he was drinking. But Brumit told The Daily Beast, which reported Sunday on Brumit's case, that he had not used drugs that day – and wasn't "drunk" when he made the decision to jump in the water. He reportedly heard a Coast Guard alert for a missing girl and thought he saw her, so jumped in. That's when he hit a sand bar and broke his neck, he told The Daily Beast. The missing girl apparently was later found safe.
Rep. Duncan Hunter, R-Calif., who has advocated for Brumit, called the Army move to review the case a positive development that puts time on the clock for Brumit.
"The Army hates to open boxes up," Hunter told FoxNews.com. "The fact that they kicked it back at all makes me optimistic."
In looking into Brumit's case and his disability benefits, the Army had conducted a "Line of Duty" probe to determine the circumstances of his injury. Their determination that he was reckless increased the likelihood he would face an other-than-honorable discharge and potentially lose benefits.
For now, those medical expenses are paid for. Brumit lives at his parents' place in Georgia and has had seven surgeries to date. A denial of benefits could leave the family facing millions in lifetime medical costs, though some charity efforts have been launched.
Hunter told Fox News' "Fox & Friends" the Army "needs to do the right thing and give him an honorable discharge."
In a letter earlier this month to Hunter seeking his help, Brumit claimed the Army "failed to support my requests for treatment for my PTSD, Traumatic Brain Injury (TBI), and secondary Substance Use Disorder (SUD)."
He wrote, "I acknowledge that I have struggled, I have sought help and the Army failed me in that pursuit." He said the "vindictive" investigation has "denied me the medical care required for my current injuries." According to The Daily Beast, he was diagnosed by the Army with "adjustment disorder" but not PTSD.
Hunter initially wrote to Secretary of the Army Eric Fanning on Sept. 9 asking for reconsideration. He also said Brumit was prevented from getting necessary treatment, saying he was even removed from drug-and-alcohol treatment by the 7th Special Forces Group to return to duty.
Tovo, in his memo, maintained that it is "unknown" whether Brumit's substance abuse problems stem from PTSD, or whether he has PTSD, noting "his medical records do not reflect this." He also said Brumit got "extensive" assistance, noting he participated in more than 20 medical, behavioral health and substance abuse meetings, screening and surveys.
But he said "it is undisputed" that his multiple combat tours "created stressors at home" and likely contributed to substance abuse. He acknowledged it's possible this contributed to his "extremely poor decision" in July 2015.
"From a commander's perspective, erring on the side of the Soldier and presuming that his headfirst dive was not an act of willful negligence adds an element of empathy to this case," he wrote, in seeking "further review."