Army reverses course on discharge for paralyzed vet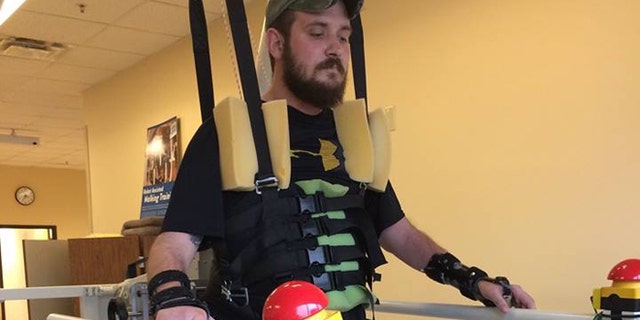 NEWYou can now listen to Fox News articles!
The Army has reversed course on a move to kick out a paralyzed veteran and strip his military benefits after congressional intervention and national media attention.
Sgt. 1st Class Timothy Brumit was paralyzed from the chest down after diving headfirst into shallow water in July 2015, attempting to rescue what he thought was a drowning girl.
The Army initially said his decision was reckless and negligent and said he was under the influence of alcohol and drugs at the time. Because of that, he was facing the likelihood of a discharge that could jeopardize his benefits.
Recent congressional attention and a public plea helped launch a review of Brumit's case, which ended with the Army determining his injuries were sustained in the "line of duty," allowing him to keep receiving aid to pay his medical bills.
"I feel blessed, and so thankful to so many people, starting with my dad, who is my caregiver, and stayed by my side to use any means necessary to right this wrong," a relieved Brumit told The Daily Beast on Thursday.
In the revised record, the Army concluded Brumit's actions constituted "simple negligence" and occurred in the "line of duty."
Rep. Duncan Hunter, R-Calif., who had pushed for a review of Brumit's case, thanked the Army for its decision.
"This decision shows that even when a soldier's command makes the wrong call, the Army is willing and able to evaluate cases on the facts and correct the mistake," he said in a statement.
Brumit, who served eight combat tours in Afghanistan and Iraq, argued that the Army "failed" him as he struggled with PTSD, traumatic brain injury and substance abuse. After the July 2015 incident, he was found to have a blood alcohol level of 0.1 percent and traces of cocaine in his system.
He has never denied he was drinking during the diving incident but insists he wasn't "drunk" when he made the decision to jump in the water.
Brumit reportedly heard a Coast Guard alert for a missing girl and thought he saw her. He jumped into the water, hit a sand bar and broke his neck.
In looking into Brumit's case and his disability benefits, the Army conducted a "Line of Duty" probe to determine the circumstances of his injury. Their original determination that he was reckless had increased the likelihood he would face an other-than-honorable discharge and potentially lose benefits.
The Army said it revised its decision after "taking into account the storm arising at the time of your injury; the confusion around multiple watercraft attempting to get back to shore; the swells both increasing and decreasing the depth of the water; the report of a missing girl; and, the fact that others in the same boat as yours had entered the water to assist in searching for the girl."