Arizona's only Hispanic governor Raul Hector Castro remembered for his public service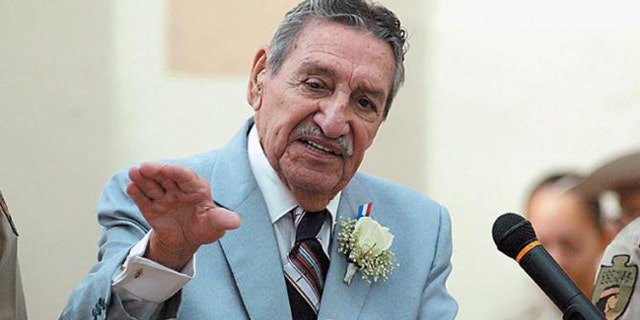 NEWYou can now listen to Fox News articles!
PHOENIX (AP) – Raul Castro was remembered Saturday as a devoted public servant who made history when he became Arizona's only Hispanic governor.
Castro, who died last month at 98, was honored with a state memorial service hosted by Gov. Doug Ducey in the old State Capitol. Ducey said it was impossible not to acknowledge Castro's mark as the state's first Mexican-American governor, but his true legacy was turning adversity into opportunity.
"Gov. Castro epitomized the triumph of the human spirit and the hope of the American dream," Ducey told the crowd.
Ducey praised Castro for rising out of humble beginnings and refusing to remain oppressed by social and racial discrimination.
"He knew he was meant to do something big, something good -- not just for himself, but for others like him, for all Americans," Ducey said.
About 200 mourners, including Castro's daughter and grandson, sat in the middle of the packed rotunda while another 100 stood in various corners of the room. Other officials in attendance included former U.S. Rep. Ed Pastor and Roberto Rodriguez, consul general of Mexico. A mariachi band performed before the two-hour service.
The memorial was a culmination of a week of remembrances, with two taking place Friday in Nogales and Tucson.
Castro was a U.S. ambassador in three Latin American countries before and after he served as a Democratic governor for 2 1/2 years in the mid-1970s. He was a self-made man who overcame poverty and discrimination. Born in Mexico, he grew up in Arizona near the border city of Douglas.
He became a drifter working as a farmhand and boxing. He worked for the U.S. Consulate before deciding to study law at the University of Arizona. Despite the law school dean telling him Hispanics didn't excel in law school, Castro went to the university president and secured himself a spot.
He went on to become the first Hispanic to serve as the county attorney of Pima County and later its first superior court judge.
Castro died April 10 in San Diego, where he was in hospice care.