Arizona Treasurer Doug Ducey wins GOP gubernatorial primary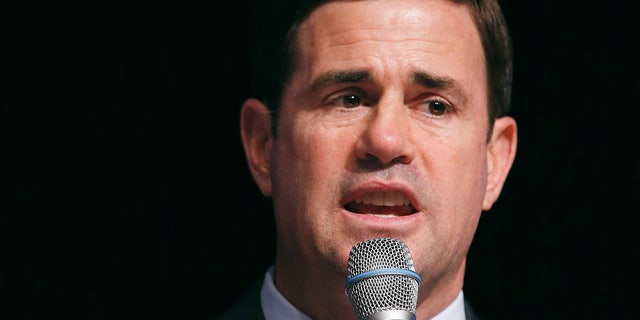 Arizona Treasurer Doug Ducey emerged from a field of six Republicans to win the party's gubernatorial primary and advance to the November race for the seat of retiring GOP Gov. Jan Brewer.
With 99 percent of the precincts reporting, Ducey had 37 percent of the vote, compared to 22 percent for his closest rival, former Mesa Mayor Scott Smith.
In the general election, Ducey will face Democrat Doug DuVal, a former Clinton administration appointee who ran unopposed in his party's primary.
Ducey started Cold Stone Creamery in Arizona and built it into a well-known national chain before selling the company in 2007 and getting into politics.
He has been state treasurer for the last four years, serving as the chief steward of Arizona's finances during a period that included the collapse of the housing market in the state.
The race to replace Brewer began as a fairly quiet contest focused on health care and jobs before shifting abruptly when thousands of immigrant children began pouring into the country and some settled in Arizona.
In the quest for right-leaning Republican primary voters, the six candidates quickly staked out hard-line positions on immigration and repeatedly attacked the Obama administration for failing to secure the border.
The race turned into a slugfest between Ducey, Smith and former GoDaddy executive Christine Jones.
Ducey and Jones poured millions of their own cash into the race. Smith lagged in fundraising but had Brewer's endorsement.
Well behind Tuesday night were Secretary of State Ken Bennett, former Maricopa County Attorney Andrew Thomas and former California congressman Frank Riggs.
Becky Fenger, a retiree, said she supported Ducey and noted that she didn't like Smith and Jones for various reasons. "I would like to vote for Ken Bennett, an honest man but no pizazz," Fenger said. "Riggs does not have a shot in hell."
Ducey painted himself as the front-runner late in the race and cited a broad coalition of business and political leaders as supporters.
Ducey planned to attend the state GOP's election night party at a downtown Phoenix hotel, and Brewer plans to attend as well.
He will need to act quickly to heal a party that was divided by the primary fight. Ducey, Jones and Smith have each been hit with attack ads, which can turn off voters.
Brewer said last week after an event for Smith that she hopes the party unites after the primary, no matter who wins.
"We all know that during a primary, things get kind of hot and heavy, and a lot of things are said," Brewer said. "And after Tuesday night, I hope we can all come together and be Republicans under one tent. That's what I would strive for."
The Associated Press contributed to this report.