Arizona Sheriff Arpaio Conducts Major Sweep, ACLU Says It Violates Court Orders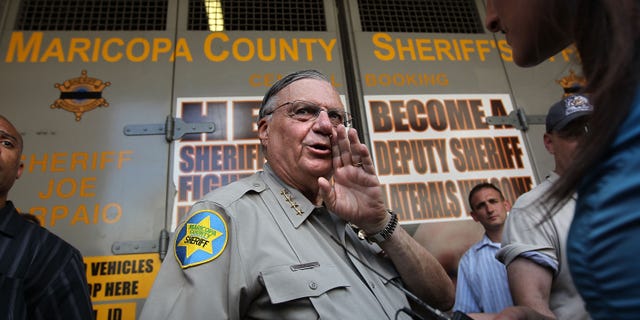 Sheriff Joe Arpaio conducted an arrest sweep over the weekend, and the American Civil Liberties Union is calling it a violation of court orders that require him to get approval before doing so.
The Maricopa County, Ariz. sheriff, whom courts have said has engaged in profiling of Latinos –and going after those he and his officers suspect of being in the country unlawfully – defended the sweeps, saying they were about crime, not immigrants.
U.S. District Judge Murray Snow found in May that the Maricopa County Sheriff's Office and Arpaio singled out Latinos and kept them in unreasonably prolonged detentions.
Earlier this month, a federal judge ordered the appointment of an independent monitor and a community advisory board to ensure that Arpaio is complying with constitutional requirements after finding his office engages in profiling of Latinos.
"This operation is geared toward crime, [it is] not an illegal immigration operation," said Arpaio, according to azfamily.com. "Do not arouse the wrath of this sheriff."
The sweep resulted in 37 arrests, 127 citations and the towing of 15 cars, according to the website.
Arpaio said he wanted to let it be known, in no uncertain terms, that his officers are not backing down from enforcing the laws, despite federal investigations of his department and court findings.
"They know what they're doing, they are professional and will continue to do their job in a professional manner," said Arpaio, according to azfamily.com.
The ACLU, which has taken a lead role in suing the sheriff's office on assertions of profiling, filed a violations complaint because, the organization says, Arpaio did not give enough advance notice of the sweep.
"We were surprised by it; we had no prior notice," said Dan Pochoda of the ACLU, according to the website.
The ACLU says Sheriff Arpaio must notify the court monitor of any large operation. The ACLU says it was only given a one-day notice – insufficient, it said, for reviewing the plans.
The Associated Press contributed to this story.
Follow us on twitter.com/foxnewslatino
Like us at facebook.com/foxnewslatino