Arizona Officials Dispute Report Saying Boycott Over Immigration Law Hurt State Economy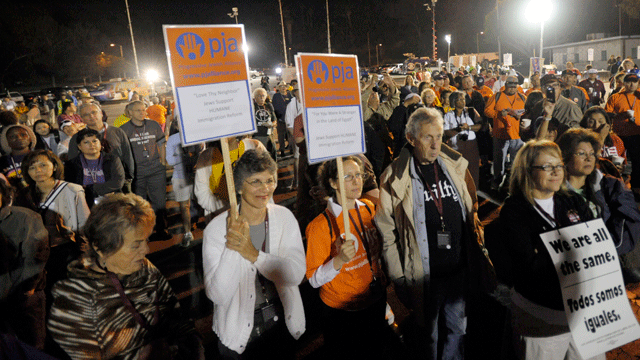 A new study estimates that Arizona lost more than $140 million in canceled meeting and convention business from a boycott of the state in the wake of its controversial immigration law -- but Arizona officials dismiss the report, saying their losses are related to the economy and they expect revenues to improve slightly next year.
The report, "Stop the Conference," was released last week by the liberal Center for American Progress. It put hotel industry losses during the first four months after the signing of the law at about $45 million. Visitors would have spent an additional $96 million during their stays, said Angela Kelley, the group's vice president for immigration and advocacy.
"This is as much, I think, to serve (as) a warning to other states, particularly those who rely on tourism and conferences and conventions, that there is an economic impact to it," Kelley said. "We feel like this is a very modest slice, just a piece of what the economic impact is, and we don't think that we're overstating it or overselling it."
But in an e-mail to FoxNews.com, an Arizona official says the report is off base.
"Although we are well aware that the travel and tourism industry was impacted this year and previously due to many economic issues, determining the true economic loss or gain from these issues is difficult at best ," said Sherry Henry, chairwoman of Arizona Gov. Jan Brewer's task force on tourism and economic vitality, adding that the state was not consulted on the research.
"What we are hearing now are some preliminary but cautiously optimistic signs of improvement as our industry continues to work in a unified fashion to promote Arizona as a premier leisure destination and convention location."
The Center for American Progress paid for the study but a respected Scottsdale-based economic firm, Elliott D. Pollack & Co., conducted it.
The study says lost bookings will probably continue for more than a year, multiplying the effect of a boycott called by immigrant-rights activists after Brewer, a Republican, signed the state's new law in April.
Former state Sen. Alfredo Gutierrez said the goal of the boycott was to bring the state's economy to a stop in much the same way that a boycott punished the state 20 years ago over its refusal to honor the Rev. Martin Luther King Jr. with a holiday.
After U.S. District Judge Susan Bolton put the most controversial parts of the new immigration law on hold on constitutional grounds in July, some opponents of the measure called for the boycott to end, including U.S. Rep. Raul Grijalva of Arizona and the grocery workers union.
An estimated 15 million visitors come to Arizona each year for vacations, conventions and sporting events such as the Fiesta Bowl, pro golf tournaments and baseball spring training. The state tourism office estimates that conventions and other tourism-related activity brought in $16.6 billion in 2009 and that 157,200 people were employed in industry.
The Associated Press contributed to this report.