Arizona law lets golf carts rule the road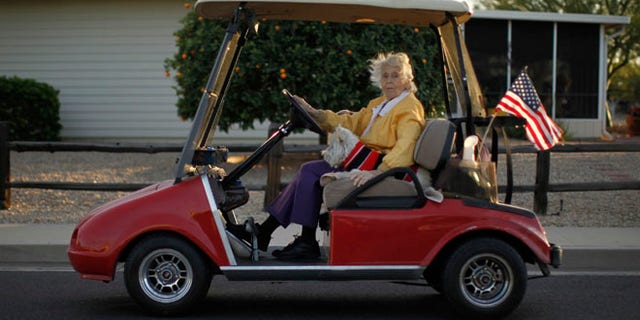 Golf carts rule the roads in Arizona, or at least the shoulder, now that a new law allows the carts to legally drive on the side of auto traffic.
Because golf carts are classified as motor vehicles, it previously was illegal to drive on the shoulder. When cart operators began driving in the road to avoid ticketing, it caused traffic backups and frustrated motorists. But when they drove on the shoulder, they got citations.
According to The Arizona Republic, the communities where carts are popular mobilized to pass the new bill, sponsored by Rep. Debbie Lesko. It passed unanimously and was signed into law by Gov. Jan Brewer.
John McIntosh, owner of the Southwest Golf Cars dealership, told the newspaper, "Golf cars are more convenient and economical. Passing the law was absolutely the right thing to do."
To celebrate the passing of the law, golf cart owners organized a parade in Sun City, Ariz., with more than 100 decorated vehicles and Brewer in attendance.