Arizona Files Legal Brief Hitting Back at Federal Ruling Against State's Immigration Law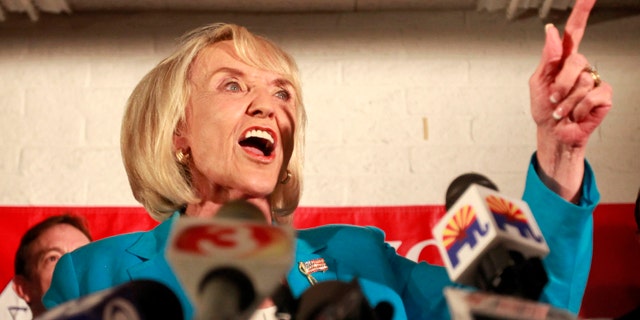 NEWYou can now listen to Fox News articles!
PHOENIX -- Gov. Jan Brewer's lawyers on Thursday filed the first brief in their appeal of a ruling that put the most controversial elements of Arizona's new immigration law on hold.
The governor says the federal ruling blocking portions of Arizona's controversial immigration law "has caused irreparable harm" to the state's residents.
Brewer wants the 9th U.S. Circuit Court of Appeals in San Francisco to reverse the ruling U.S. District Judge Susan Bolton made last month.
The governor's office says Bolton abused her discretion by applying the wrong legal standards and basing her ruling on the federal government's speculation that it would be harmed by Arizona's law. Brewer says the judge ignored key provisions of federal law that allow states to enforce immigration law.
"The decision to suspend portions of SB 1070 has caused irreparable harm to the safety and well-being of Arizona's citizens who continue to suffer every day that the federal government refuses to do its job," Brewer said in a written statement.
The U.S. Justice Department went to court in a bid to invalidate the law.
The Justice Department had no immediate comment Thursday.
Bolton blocked provisions of the law that requires immigrants to obtain or carry immigration registration papers and that require police, while enforcing other laws, to question people's immigration status if there is a reasonable suspicion they're in the country illegally.
But the judge let other portions take effect late last month, such a ban on blocking traffic when people seek or offer day-labor services on streets, and amendments to existing state immigration laws.
The Associated Press contributed to this report.