Anti-Kavanaugh protesters accosting senators have ties to Soros
When Sen. Jeff Flake was accosted by two women in an elevator on Capitol Hill, it was seen as one of the most striking moments of last week's Brett Kavanaugh Supreme Court nomination battle.
In the morning, Flake put out a statement indicating his support for Kavanaugh, but following the elevator incident, he made a dramatic call in the committee room for a one week delay so an FBI investigation could investigate sexual abuse allegations against the nominee.
Flake admitted afterwards that the elevator moment "certainly struck a chord" with him.
KAVANAUGH ACCUSER SWETNICK FACES CREDIBILITY QUESTIONS AMID CHANGING STORY, DETAILS FROM PAST
Just three days later, three women harassed Senate Majority Leader Mitch McConnell as he walked through the terminal at Reagan National Airport.
"How many stories of sexual violence do you need to hear in order to believe woman," one of the woman asked McConnell during Monday's incident. Video shows McConnell looking straight ahead.
Seemingly organic, powerful protests. But in both instances, the women involved came from a nonprofit called Center for Popular Democracy that has received funding from liberal billionaire George Soros, records show.
Ana Maria Archila, who confronted Flake is the group's co-executive director.
Tracey Corder, who according to reports, confronted McConnell, is the group's racial justice campaign director.
Corder also confronted another Republican senator, Bob Corker of Tennessee at the airport Monday.
"I know this is enjoyable to y'all," Corker said, according to The Huffington Post. "Thank you so much. I appreciate it."
The news outlet and other media reported that video showed Sen. David Perdue, R-Ga., being confronted at Reagan by three women, including Center for Popular Democracy co-executive director Jennifer Epps-Addison.
Soros donated $1.5 million to Center for Popular Democracy in 2016 and 2017 through his philanthropy organization Open Society Foundations, the records show.
FLAKE SLAMS GOP, SAYS HE FEELS LIKE HE DOESN'T BELONG TO ANY POLITICAL PARTY
He also donated in the past two years another $1.2 million to the nonprofit's sister organization Center for Popular Democracy Action, which helped organize protests at the Kavanaugh hearings in early September that resulted in more than 200 arrests.
A spokeswoman said Open Society Foundations "has long supported the work of the Center for Popular Democracy. The decision to discuss the Kavanaugh nomination with Sen. Flake was obviously a deeply personal one, and Ms. Ana Maria Archila has explained her thinking and motivations for doing so; the decision was entirely independent of OSF's support. That said, the foundations proudly support the right of all citizens to make their voices heard by their elected representatives—a bedrock principle of our democracy that surely Fox News believes in as well."
Soros also has ties to a liberal group running anti-Kavanuagh TV ads focused on his accuser Christine Blasey Ford's allegations. Demand Justice is funded by a nonprofit Sixteen Thirst Fund that has received more than $730,000 from the Soros foundation in 2016 and 2017.
Video of McConnell being confronted was posted on Twitter after being shot by Ady Barkan, a Center for Popular Democracy staffer.
The Center for Popular Democracy did not return a Fox News request for comment.
Republican National Committee spokesperson Kayleigh McEnany told "Fox & Friends" Tuesday that the protests won't intimidate McConnell.
"He is subject to these kind of protests -- these crazy protests -- all the time on immigration and other issues," McEnany said. "As he said with the immigration protests, this is not about persuasion, this is about intimidation."
Last week another Senate Republican, Ted Cruz of Texas was forced to flee a Washington restaurant Monday night in a scene caught on video.
One of the groups claiming credit for chasing Cruz was the Antifa group Smash Rascism DC. Reports show members of a union and three other groups took part. None have been linked to Soros.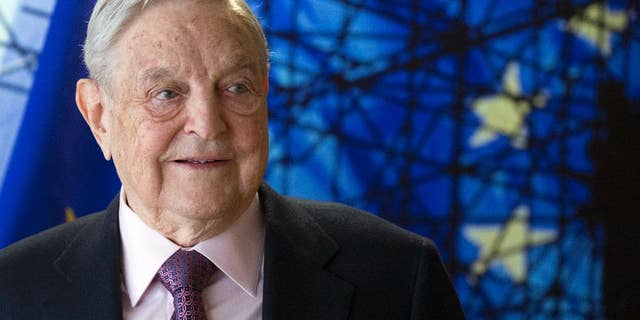 The activists say they will continue to confront Republican lawmakers as the FBI investigates accusations of sexual misconduct by Kavanaugh when he attended a prep school and Yale.
Kavanaugh denies the allegations and has accused Democrats of trying to destroy him.
Archila and the other woman who stopped Flake pleaded with him not to support Kavanaugh's nomination, describing their own experiences as sexual assault victims.
MICHAEL GOODWIN: KAVANAUGH HEARINGS ARE A NATIONAL DISASTER - AND THE WORST IS YET TO COME
On Monday, Flake told a conference in Boston that the incident was a factor in his request for an FBI probe before a full Senate vote on Kavanaugh.
"That experience, as well as a lot of others," Flake said. "I got calls and emails and texts from women I never thought I'd hear from in this regard saying: 'Here's what happened to me when I was young, here's what happened to me 30 years ago.'"
Fox News' Perry Chiaramonte and Alex Diaz contributed to this report.