Angry Residents of California City Approve Council Recall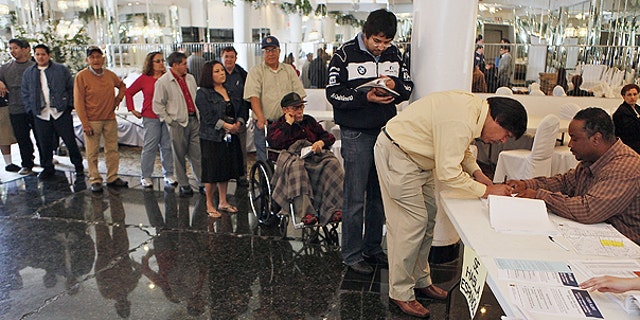 NEWYou can now listen to Fox News articles!
BELL, Calif. – BELL, Calif. -- Voters in this blue-collar Los Angeles suburb that became the face of municipal corruption have overwhelmingly supported the recall of four city council members charged with looting the city of more than $5.5 million by doling out enormous salaries to themselves.
More than 95 percent of voters cast ballots Tuesday in favor of recalling council members Teresa Jacobo, George Mirabal, Mayor Oscar Hernandez and former Councilman Luis Artiga. All four have pleaded not guilty to dozens of fraud and other charges.
In the race to fill Jacobo's remaining term, retired baker Danny Harber won with 54 percent of the vote, according to final election returns.
Attorney Ana Maria Quintana received 44 percent of the vote to fill Artiga's remaining term. Miguel A. Sanchez, who died last week, came in second with 23 percent.
In the race to fill three four-year terms on the council, the top vote-getters were businessman Ali Saleh, followed by Nestor E. Valencia and Violeta Alvarez.
Lorenzo Velez, the only member of the current council who was not charged, was seeking re-election, but lost. He was paid just $7,500 a year for his part-time service.
Velez was upbeat, however, when he spoke to The Associated Press, saying the big victory was for the community.
"The turnout was amazing," he said. "It shows that our community has finally come to its senses, and I'm going to work as hard as I can to make sure there's honest government and accountability."
Hernandez, Artiga, former City Manager Robert Rizzo and former Assistant City Manager Angela Spaccia sat in a courtroom listening to testimony at a preliminary hearing a few miles away as voters cast their ballots. They are among the eight current and former Bell officials facing charges in the corruption scandal.
"Despite all the recent problems, I wish the very best to the people of the city of Bell and to its new elected city council and mayor," Hernandez said in a statement.
"I believe in America and know that things will improve for the city and also that I will be vindicated in court," he added.
Hernandez and Mirabal had been up for re-election but decided not to run after the scandal broke. Artiga, whose term would have expired in 2013, resigned after he and the others were arrested.
Jacobo, whose term also expires in 2013, chose to remain in office and fight the recall launched last summer after residents learned of the generous salaries, including an annual compensation package of $1.5 million for Rizzo.
It was "corruption on steroids," Los Angeles County District Attorney Steve Cooley said about the salaries and dozens of low-interest loans of city money to favored people.
The replacement candidates represented a cross-section of the city. They included an attorney, high school English teacher, health care administrator, real estate agent, small-business owner, construction contractor, truck driver, social worker, retired baker and environmental activist.